Movie Information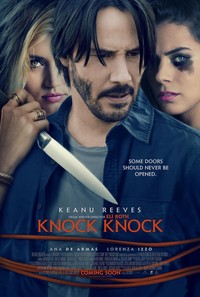 Knock Knock
Released: October 9, 2015
Movie Purchasing Links
Soundrack Albums
There are no soundtrack albums in our database for this title. If this is incorrect, please contact us.
Song Credits
"Winter Nights"


Composed by Jerónimo Hill
Performed by Goyele
Courtesy of IA Music

"Detroit City Rock"


Composed by Paul Stanley, Robert Ezrin
Performed by Kiss
Courtesy of Island Records
under license from Universal Music Enterprises

"You Never Knew"


Composed by Matthew Rolin
Performed by Nowhere
Courtesy of Directional Music and Jurrassic Pop Records
Published by Universal Polygram Int. Publishing Inc. on behalf of Café Americana, Inc., Hori Prod. America, Inc., All By Myself Publishing Co. Intersong USA, Inc. o/b/o Café Americana, Inc.

"Somewhere to Run"


Composed by Emeen Zarookian
Performed by Emeen Zarookian
Courtesy of Directional Music

"Soul Wurll Funk"


Composed by Jimmy Deer
Performed by Jimmy Deer
Courtesy of Directional Music

"Lonely Town"


Composed by Stefano Mastronardi
Performed by Stefano Mastronardi
Courtesy of Directional Music
Courtesy of Directional Music

"Union Street Shuffle"


Composed by Matthew Matteus and
Jeremy Chatelain
Performed by Timber Music Supply

"Casser (Sokio Remix)"


Composed by Edith Crash
Performed by Edith Crash
Courtesy of Edith Crash

"Prenderemos Fuego"


Composed by Francisca Valenzuela
Performed by Francisca Valenzuela
Courtesy of Francisca Valenzuela

"Calma Que No"


Composed by Diego Palma
Performed by Jumper Joy
Courtesy of Ponk Records

"We Are Dead"


Composed by Dale Gonyea
Performed by Dale Gonyea
Courtesy of Dale Gonyea

"Talking to The Devil"


Composed by Richard Taylor, Greg McGee, Perry Morris, Richie King
Performed by Sorcery
Courtesy of Perry Morris

"Daddy Was Wrong"


Composed by Ben Riesman
Performed by Les Fits
Courtesy of Ben Riesman

"Grandma Belle's Song"


Composed and Performed by Lorenza Izzo
Courtesy of Lorenza Izzo
Beggars Group Media Limited

"Where Is My Mind"


Composed by Charles Thompson
Performed by Pixies
Courtesy of 4AD By Arrangement with

"Cavaleade"


Composed by Roger Renaud
Courtesy of Justement Music
Under license from 5 Alarm Music
Published by Songs of Universal, Inc,

"Family Feud - Theme"


Written by Robert Arnold Israel
Trailer Music Used From
Theatrical Trailer
"My Awakening" - Jeffrey Hayat
Missing Information?
If any information appears to be missing from this page, contact us and let us know!