Movie Information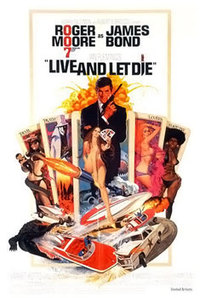 Live And Let Die
Released: 1973
Review: Live and Let Die (Ultimate Edition Blu-ray)
by Dan Goldwasser
October 25, 2008
3 / 5 Stars
The eighth James Bond film, Live and Let Die, was the first film to feature Roger Moore as the British secret agent.  Sean Connery had returned to the role in Diamonds Are Forever after George Lazenby\'s brief one-film outing (On Her Majesty\'s Secret Service), but his time as Bond was over (except, of course, for the non-official production of Never Say Never Again).  Roger Moore, known for his work on "The Saint" ushered in a new era of Bond. Moore would portray Bond with some suave confidence and charm that was imbued with a bit of humor, with one-liners gaining more and more prominence over his reign.  His first Bond adventure, Live and Let Die, features Bond investigating the death of fellow British agents, which leads him to the notorious Mr. Big (Yaphet Kotto), and a world of Harlem gangsters, and voodoo in the Louisiana Bayou.  Released in 1973 at the height of the Blaxploitation film trend, Live and Let Die feels dated, but still retains a naive charm to it, and helped thrust the young actress Jane Seymour (as "Solitaire") into the international spotlight.
Released numerous times on home video, Live and Let Die has been restored from the original camera negative for new "Ultimate Editions" that were released on DVD back in 2006.  Lowry Digital, known for their work restoring such films as Star Wars and Citizen Kane, worked on the clean-up process, and high definition transfers were made, though they weren\'t coming out - until now.  Live and Let Die is part of the first "wave" of James Bond releases to hit Blu-ray, along with five other Bond films (all in anticipation of the newest adventure, Quantum of Solace).  The movie looks excellent, sounds great, and has all of the extras previously released on the DVD versions.
Video: Live and Let Die sports an exceptionally clean 1080p image.  The film grain is natural looking, and it\'s a rock solid image with no gate weave or film shake.  Colors are vibrant although a smidge oversaturated, but unlike Thunderball, the contrast is spot-on.  With a lot of night sequences, the blacks are rich and solid, but not murky - providing excellent texture detail.

Audio: Released in a 5.1 English DTS-HD Master Audio remix, the audio on Live and Let Die is primarily front-heavy, with dialogue centered and occasional nice use of the left and right speakers.  Sound effects are used sparingly in the rears, and the score by Beatles producer George Martin is also positioned in the front primarily, but definitely more of a stereo image. (The opening title song performed by Paul McCartney and Wings sounds great!) The original mono track is also included, for archival purposes in Dolby Digital 2.0, as well as Spanish Mono and French 5.1 Dolby Digital.
Supplements: This is the "ultimate edition" of Live and Let Die, and features all of the extras from the past two DVD releases.  The menu is broken down into a few "thematic" sections, so I\'ll address them here individually.
MI6 Commentary: Three commentaries are included on the disc.  The first one features Sir Roger Moore flying solo.  Clearly showing his age, it\'s a very slow track, and while there are some interesting anecdotes, it\'s tough listening and not very engaging. More interesting are the other two commentary tracks.  Hosted by Ian Fleming foundation member John Cork, the first commentary track features director Guy Hamilton, as well as many of the principle members of the cast and crew from previous recordings.  The third track is very well done, and features screenwriter Tom Manckiewicz flying solo.  Given his track record on previous commentaries, it\'s a solid one, and well worth listening to especially as he discusses the challenges posed with writing for Roger Moore versus Sean Connery.
Declassified: MI6 Vault: Three featurettes are presented here.  "Bond 1973: The Lost Documentary" (SD) runs 22-minutes long, and provides a nice EPK-styled look at the film, with a focus on the action sequences and stunts.  The 8-minute long "Roger Moore as James Bond, Circa 1964" (SD) features Moore\'s first portrayal as 007 - in a television variety show, as a comedy bit! "Live and Let Die Conceptual Art" (SD) is a short (1:40) montage of conceptual poster art narrated by Michael Wilson discussing early promotional marketing attempts for Live and Let Die.
007 Mission Control: This unique "interactive" listing lets you view your favorite moments from the film, organized by category: "007", "Women", "Allies", "Villains", "Mission Combat Manual", and "Q Branch".  "Exotic Locations" (HD) runs 4:30, narrated by Maud Adams (Octopussy), and takes a look (using the film\'s footage) of the various world locations that the movie was shot in. In this case, most of the locations are in New York, New Orleans and Jamaica.
Mission Dossier: Narrated by Patrick McNee (A View to a Kill), the 30-minute long "Inside Live and Let Die" was originally included on the 2000 DVD, but has been re-done here in HD. As such, all of the still photographs and artwork looks even better! Interviews were done in SD, so they are presented "windowboxed".  This featurette takes a good look at the evolution of Bond, when Connery left, and how Roger Moore took on the role.  Making the film for a new generation of viewers required a fresh approach to the character, and director Guy Hamilton, screenwriter Tom Manckiewicz and others are all interviewed, along with some good behind-the-scenes footage and stories, including the racial aspects of the film, and how it changed from the novel.  "On Set with Roger Moore: The Funeral Parade" is a short 1.5-minute piece (in SD) with Roger Moore talking about the Funeral Parade sequence in New Orleans.  Similarly, "On Set with Roger Moore: Hang Gliding Lessons" (SD) is a brief 4-minute piece showing Moore\'s preparation for the hang gliding sequence.
Ministry of Propoganda: The "Theatrical Archive" (4.5-minutes) contains two trailers all in standard definition. "TV Broadcasts" (2.5 minutes) contains three spots, including a UK Milk Board commerical!  Finally, two radio spots (1.5-min.) are also included in "Radio Communication".
Image Database: An extensive still-frame image database is included in HD, although the photos don\'t seem to take up more room than a SD feature would have.  Broken down into "The New 007", "Portraits", "The Filmmakers", "Ross Kananga", Joie Chitwood\'s Driving Team", "Mr. Big\'s Makeup", "James Bond and His Gadgets", "Marketing", and "Around the World with 007" (foreign posters).
On Blu-ray, Live and Let Die looks and sounds great.  Roger Moore\'s first outing as 007 is one of the weaker entries in the Bond series, but it\'s is sporting an excellent transfer and solid amount of extras.  Worth a rental for sure.
Missing Information?
If any information appears to be missing from this page, contact us and let us know!