Movie Information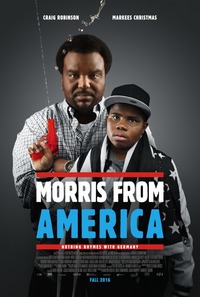 Morris from America
Released: August 19, 2016
Movie Purchasing Links
Soundrack Albums
There are no soundtrack albums in our database for this title. If this is incorrect, please contact us.
Song Credits
--


Original Raps Written by Justin Coleman and Performed by Jay Stone

"Come Clean"


lly Manne, Chris E Martin, Chylow M. Parker
Performed by Jeru the Damaja
Alchemist Music, EMI APRIL MUSIC INC.
(c) Published by Gifted Pearl Music, Inc. inistered by Kobalt Music Publishing Limited Inernational a division of Universal Music GmbH mold, EMI Music Publishing Germany GmbH

"Fuckin' All the Bitches"


Written by Chad Hartigan
Performed by Markees Christmas

"Pauke"


Written by Roman Wilhelm
Performed by FFF
arnstedt, Thorsten Droessler, Falk Buchröder

"Pavane, Op. 50"


Composed by Gabriel Faure
Performed by Minnesota Orchestra, Eiji Oue Court
By Arrangement with Jody Friedman & HD M

"Juicy"


e Olivier, Christopher Wallace, James Mtume ,
Jumping Bean Songs, Mtume Publishing Inc any GmbH, Kobalt Music Publishing Limited

"Piano Pieces, D. 946 - 3. Allegro"


Written by Franz Schubert
Performed by Kimiko Ishizaka

"Sarabande aus der Partita BMV 1013"


Written by Johann Sebastian Bach

"Pussy is Mine"


Pimentel/Robinson/Warfield
Performed by Miguel
(c) Universal/MCA Music Publishing GmbH/Sony/ (P) 2012 RCA Records, a division of Sony Music
Courtesy of Sony Music Entertainment Germany

"Morris Freestyle"


Written by J. Hurt
Performed by Markees Christmas

"Up and Down"


Written by Hugo Manuel
Performed by Chad Valley
(c) Happy Hunting Ground Ltd./ BMG Rights Man
Courtesy of BMG Rights Management GmbH

"Rebound"


Written and Performed by Eric Hirsch
Used with Permission

"Waiting Jazz"


Hotline Hold Music
Written and Performed by Tobias Scherer

"Flava In Ya Ear (Remix)"


ger Mc Nair, Trevor Smith, James Todd Smith B.I.G., L.L. Cool J, Busta Rhymes, Rampage)
Casablanca Media Songs LLC, LL Cool J Music (P) 2004 Bad Boy Records Inc. ing GmbH. A Warner Music Group Company ny GmbH, Tziah Music, tj musicservice gmbh

"Clicks"


Lyrics + Music: Keegan DeWitt and Jeremy Bullo
(c) Shapeless Music, Jeremy Bullock Music
Courtesy of Sony/ ATV Music Publishing (Germany)
Missing Information?
If any information appears to be missing from this page, contact us and let us know!