Movie Information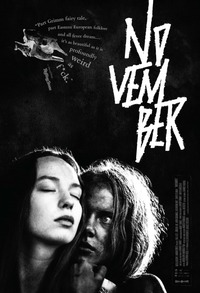 November
Released: February 23, 2018
Movie Purchasing Links
Soundrack Albums
There are no soundtrack albums in our database for this title. If this is incorrect, please contact us.
Song Credits
"MOONLIGHT SONATA"


Helilooia/Composer: LUDWIG VAN BEETHOVEN
Edwin/Presenter: MICHAL IACASZEK
(p) Michal lacaszek

"OBOE CONCERTO IN C MINOR: ADAGIO"


Helilooja/Composer: ALESSANDRO MARCELLO
Esitaia/l'rcuntcr: RAY STILL
Dln'gcnt/Conduclar: RICHARD STAMP
(c) Academy ofLondon & (p) EMI Virgin Classics

"TROOST - MURU KASVAB MULLA PEALE


(SALME LOHUARU MALESTUSEKS)"
Helilooia IComposcr: KONSTANTIN TURNPU
Tekst/Text:RAHVALUULE (KALEVIPOEG)
Aranleeriia/Armngcment: KONSTANTIN TURNPU
Esitaja/Prescntcr: KATRlN LOHUARU
(c) & (p) Katrin Lohuaru

"MADU MUSTA MOA ALUNE"


Helilooja/Composer:KATRIN LOHUARU
Tekst/Text: REGILUULE
Aranteerija/Arrangement: KATRIN LOHUARU
Esita/a /Presenter: K AT R I N L O H U A R U
(c) & (p) Katrin Lohuaru
Missing Information?
If any information appears to be missing from this page, contact us and let us know!