Movie Information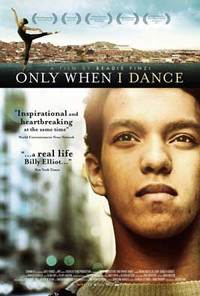 Only When I Dance
Released: July 2, 2010
Movie Purchasing Links
Soundrack Albums
There are no soundtrack albums in our database for this title. If this is incorrect, please contact us.
Song Credits
Slavonic Dance No. 10 in E minor, Op. 72


Composed by Antonin Dvorak
Performed by the Slovak Philharmonic Orchestra, conducted by Zdenek Kosler
Licensed courtesy of Naxos Rights International Ltd

Quando Acaba O Gas


Performed by Trio Forro Balancado
Written by Zinho / Pedro Massadas
Courtesy of Trio Forro Balancado

Variation Andante from Paquita


Composed by Leon Minkus
Performed by Sofia National Opera Orchestra, conducted by Boris Spassov
Courtesy of Capriccio

Le Serpent


Performed by Guem and Zaka Percussion
Written by Guem
(p) 1978 Le Chant du Monde, Paris
Published by Le Chant Du Monde, Paris

Act II Valse de la Poupee from Coppella


Written by Leo Delibes
Performed by Slovak Radio Symphony Orchestra (Bratislava), conducted by Andrew Mogrella
Licensed courtesy of Naxos Rights International Ltd

Symphony No. 11 in G Minor Op. 103


Composed by Dmitri Shostakovich
Performed by Czech-Slovak Radio Symphony Orchestra (Bratisslova), conducted by Landislav Slovak
Courtesy of Boosey & Hawkes Publishers Ltd
Licensed courtesy of Naxos Rights International Ltd

--end left column 1, start right column 2--

Hand Clapping Song


Performed by The Meters
Written by Arthur Neville / Joseph Modeliste / Leo Nocentelli / George Porter Jr
Published by Bugaloo Music,
admin by Bug Music Ltd
(p) 1970 WEA International, Inc
Licensed courtesy of Warner Music UK Limited

Le pas du chat nolr


Written and performed by Anouar Brahem
Produced by Manfred Eicher
(p) ECM Records 2002
Courtesy of ECM Records/Veriag GmbH

Toque De Magica


Written by Marcelo Ferrelra / Sergio Sampalo / Ze Henrrique
Published by Universal Music Publishing MGB Ltd / EMI Music Publishing Ltd

Menuello: Allegro - Trio from Eine Kleine Nachtmusik


Composed by Wolfgang Amadeus Mozart
Performed by Capella Istropolitana, conducted by Wolfgang Sobotka
Licensed courtesy of Naxos Rights International Ltd

Nao Se VA


Performed by Penha Da Silva
Written by Jane Marals / Alain Barriere
Based on the song Tu T'en Vas
Published by Bretagne editions musicales

O Namorado Da Viuva


Written by Jorge Ben Jr
Performed by Jorge Ben
Published by Ariequim Editora / Mr Bongo Pub.
Courtesy of Universal Music Brasil
Under license from Universal Music Operations Ltd
Missing Information?
If any information appears to be missing from this page, contact us and let us know!