Movie Information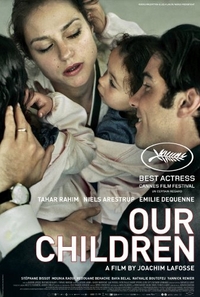 Our Children (A perdre la raison)
Released: August 2, 2013
Soundrack Albums
There are no soundtrack albums in our database for this title. If this is incorrect, please contact us.
Song Credits
"Femmes Je Vous Aime"


Interprete par Julien CLERC
(Julien Clerc / Jean-Loup Dabadie)
(c) 1982 Les Editions Crecelles SA
Edition et Productions Sidonie SA
Avec l'autorisation de Emi Music Publishing France S.A.S., Editions Crecelles S.A.S. et Edition ET Productions Sidonie S.A.
Tous droits reserves.
(p) 1982 Free Demo
Avec l'autorisation de EMI Music France

"Mentre io godo (Aria della Speranza)


[Il Giardino di Rose (Oratorio La Santissima Vergine del Rosario) Performing Edition par Claudio Osele]"
Interprete par Cecilia BARTOLI et LES MUSICIENS DU LOUVRE
Sous la direction de Marc MINKOWSKI
(A. Scarlatti / P. Ottoboni)
(p) 2005 Decca Music Group Limited
Avec l'autorisation de Universal Music Vision

"Ils s'aiment"


(D. Lavoie - D. Deschenes)
(c) JANVIER MUSIQUE
Avec l'autorisation de Universal Music Vision

Pietro Locatelli


Concerto Il a quattro en Ut mineur op. 1, Largo
Freiburger Barockorchester
Dir. Gottfired VON DER GOLTZ
(c) harmonia mundi, 2012

Antonio Caldara


Maddalena ai piedi di Cristo, Aria "Per il martel pianto mio"
Maria Cristina Kiehr, soprano
Orchestre de la Schola Cantorum Basiliensis
Dir. Rene JACOBS
(c) harmonia mundi, 2012

"La Maddalena no 35"


ecrite et composee par Alessandro SCARLATTI
et interpretee par L'ENSEMBLE EUROPA GALANTE
conduit par Fabio BIONDI
(p) 1993 Opus 111 / naive

Joseph Haydn "Stabat Mater"


The English Concert and Choir, Trevor Pinnock, Archiv Produktion
Deutsche Grammophon (Universal), 429 733-2
"Fac me vere tecum flere"
Missing Information?
If any information appears to be missing from this page, contact us and let us know!