Movie Information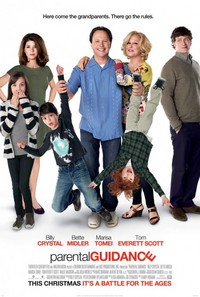 Parental Guidance
Released: December 25, 2012
Movie Purchasing Links
Soundrack Albums
There are no soundtrack albums in our database for this title. If this is incorrect, please contact us.
Song Credits
"Possibilities"


Written by William Peterkin, Barbara Jordan and Daniel Mark Thompson
Performed by Pete Peterkin
Courtesy of Heavy Hitters Music Group

"Ten-Twenty-Ten"


Written by Grant Widmer and Edward Joyner
Performed by Generationals
Courtesy of Park The Van Records

"Raindance On The Stones"


Written by Richard Allen Harvey
Courtesy of APM Music

"The Wheels On The Bus"


Traditional

"Take Me Out To The Ballgame"


Written by Jack Norworth and Albert Von Tilzer

"Come Out Mr. Doodie"


Music and Lyrics by Billy Crystal

"Going All The Way"


Written by Aaron Harrison, Danny Sharp, Joe Sefton and Marc Miles
Performed by Guns On The Roof
Courtesy of Bomber Music
Under license from HD Music Now

"You Made Me Like It"


Written by Michael McGaughrin and John McKeown
Performed by 1990's
Courtesy of Rough Trade Records
By arrangement with Beggars Group Media Limited

--end of left column 1, start right column 2--

"Mickey"


Written by Michael Donald Chapman and Nicholas Barry Chinn
Performed by Toni Basil
Courtesy of Stillwater Limited
Under exclusive license to Razor & Tie Direct, LLC

"Violin Concerto In D Major, Op. 35"


Written by Pyotr Ilyich Tchaikovsky

"Button Up Your Overcoat"


Written by Lew Brown, B. G. DeSylva and Ray Henderson

"Groovin' & Movin'"


Written by Darren Alvin Sampson, Graham Barrie Turner and Mark Jason Hall
Performed by London Bus Stop
Courtesy of Forman Bros. Recordings

"Oh Happy Day"


Written by Edwin Hawkins

"Now or Never"


Written by Richard Andrew Conte, Andrew Goldstein, Kara DioGuardi and Jeff Fenster
Performed by Outasight
Courtesy of Warner Bros. Records Inc.
By arrangement with Warner Music Group Film & TV Licensing

"Told You Twice"


Written by Guillaume Amphoux
Performed by Gyom
Courtesy of Method House Studios/Position Music

"Book Of Love"


Written by Warren Davis, George Malone and Charles Patrick

--end of right column 2, start new centered column--

"Home"


Written by Greg Holden and Drew Pearson
Performed by Phillip Phillips
Courtesy of Interscope Records
Under license from Universal Music Enterprises
News &amp Articles
Missing Information?
If any information appears to be missing from this page, contact us and let us know!