Movie Information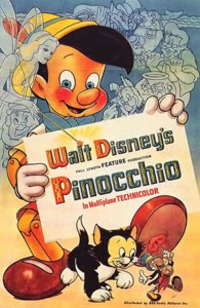 Pinocchio
Released: February 7, 1940
Review: Pinocchio (70th Anniversary Blu-ray)
by Dan Goldwasser
March 6, 2009
4.5 / 5 Stars
In 1937, Walt Disney released the first feature-length animated film, Snow White and the Seven Dwarfs. Considered to be a massive gamble (even dubbed "Disney\'s Folly"), Snow White went on to be a massive success both critically and with audiences.  Moving forward on the second feature animated film, Bambi, hit a snag when Disney wasn\'t sure exactly how to do it.  And so, a popular Italian children\'s book by Carlo Collodi was adapted, and Pinocchio was released in 1940.
The story is a well known classic by know.  Woodworker Geppetto wishes upon a star that a marionette he crafted would be a real boy - and the Blue Fairy makes his wish come true, kind of.  Pinocchio is still a puppet, but very much alive - and to become a real boy, he needs to be brave, truthful and listen to his conscience, an anthropomorphized cricket who wears a top hat and has a walking cane.  Geppetto is thrilled of course, and sends Pinocchio off to school, but his journey is interrupted by the fox Honest John, who convince him instead to become an actor in the Stromboli puppet show.  Soon Pinocchio falls into the dark seedy underworld of The Coachmen, who lures boys to Pleasure Island where they are eventually transformed into donkeys.  I don\'t want to talk about the plot any further, even though you probably know what happens, but it\'s worth re-watching Pinocchio to let it all play out for you again.
Filled with classic songs (including the now immortal "When You Wish Upon a Star") and great moral situations posed to the audience, Pinocchio works for both children and adults alike.  Jiminy Cricket tries his best to lead Pinocchio through the various traps and temptations he encounters, and helps push the story along with his narration. It\'s a classic animated Disney film, and it pushed the bounds of animation with the beautiful and very lifelike performances and water effects.  The excellent songs were written by Leigh Harline and Ned Washington, with the underscore by Paul J. Smith, and it also set the standard for how a story can be told through the music.
Just in time for its 70th(!) anniversary, Pinocchio has been given the ultimate treatment: a digital restoration and release on Blu-ray (and DVD) with a slew of special features.  The image is impeccable. I thought what Disney had done with last year\'s Blu-ray release of Sleeping Beauty was amazing, but this blows it away. You really wouldn\'t know that this is a 70-year old film; there is no film grain at all.  The animation is still "old school" and has that classic "roughness" to it, but every frame is sharp and exact.  It took a minute to realize it, but what I thought was "frozen grain" actually turned out to be the physical grain of the paper on the background art.  You can see every brush stroke, color is vibrant and deep, and it\'s a true masterpiece presentation.  Audio is presented in a new English 7.1 DTS-HD Master Audio home theater sound mix, and the original restored English mono track.  Considering the film\'s age, this is a rather straightforward front-heavy sound mix.  The music benefits better from the 7.1 mix, but it\'s still rather monaural. But it\'s certainly clean!
Special features for this new Platinum Edition are not as extensive as some other Disney releases, but still will provide hours of behind-the-scenes material.  First up are the different ways you can choose to watch the film.  You can watch the film in the original 1.33:1 aspect ratio, with windowboxing on the left-and-right of your screen.  But in a new approach, we\'re also offered a new presentation called (of course), "Disney View".  What this does is fill in the left and right sides of the screen with new watercolor artwork by Toby Bluth.  It\'s subtle and changes with the scenes to enhance the mood. A nice and non-obtrusive way to view the film, and most importantly, it\'s optional.  The other way to view the film is with the "Cine-Explore" mode, in which film critic/historian Leonard Maltin, Disney animator Eric Goldberg and film historian J.B. Kaufman provide an engaging picture-in-picture commentary that focuses on every aspect of the film and its creation.  Archival footage, interviews, artwork and more are all used and interspersed, making this an absolute must-watch track.  (The audio is available separately as an audio-commentary if you don\'t want the visual elements.)
There\'s the usual the "Disney Song Selection" feature letting you jump to (and sing along with) any of the songs, as well as the new music video cover of "When You Wish Upon a Star" by Disney pop artist Meaghan Jette Martin.  In "Games & Activities", we have two choices: a new pop-up trivia track, "Pinocchio\'s Matter of Facts", and "Disney Smart Games: Pinocchio Knows Trivia Challenge", where multiple-choice trivia game that you can play alone or with up to four players, for 30, 60 or 90 minutes.  It\'s fun, but runs a little slow at times.
The rest of the extras are all found on the second disc.  Two more "Games & Activities" are provided: "Pinocchio\'s Puzzles" lets you assemble shots from the movie in puzzle form, and "Pleasure Island Carnival Games" lets you play four different types of sideshow amusements, including target shooting, safe-cracking, strong man hammer, and some kind of skee-ball.  But the real extras are the behind-the-scenes materials, found in "Backstage Disney".  First up is "No Strings Attached: The Making of Pinocchio" (HD, 56-minutes).  This comprehensive documentary looks at the film, from pre-production, to animation, to music, to release.  It doesn\'t really look at the lasting effects of the film, but the archival footage, live-action reference material, and look at advances in animation technique are all fascinating and it\'s a well put together piece.
Three "Deleted Scenes" (HD, 9.5-minutes) are shown, mainly through storyboards and sketches.   "The Sweatbox" (HD, 6.5-minutes) looks at the use of the a stuffy screening room where story reels were presented to Walt Disney for feedback and discussion.  "Live Action Reference Footage" (HD, 10-minutes) looks at the way the animators would be influenced by actors filmed on bare stages with a minimum of props to inspire the animation performances. There are eight "Pinocchio Art Galleries" (all in HD), which cover Visual Development, Gustaf Tenggren Art, Character Design, Maquettes & Models, Backgrounds & Layouts, Storyboard Art, Production Pictures and Live-Action Reference.  Three trailers are included in the "Publicity" section: the original theatrical trailer (SD), the 1984 re-release theatrical trailer (SD) and the 1992 re-release theatrical trailer (SD).  A 1947 promotional recording of a deleted song "Honest John" (2.5-minutes) is included, as well as a small featurette, "Geppettos Then and Now" (HD, 11-minutes) that looks at a few different toymakers around the world who are continuing the age-old craft of wood carving - as well as some modern toymaker inventors who are taking things to the next level.
There is nothing about the restoration efforts on Pinocchio, which is too bad since the result is truly an impressive feat.  A third disc is included, which is basically the first disc of the DVD release.  It\'s a nice touch, so you can watch the movie with people who don\'t have a Blu-ray player.  It\'s hard to imagine any other 70-year old film looking this good, and Pinocchio blew me out of the water.  A classic film with a gorgeous transfer, solid audio and nice selection of extras, Pinocchio is well worth picking up when it comes out on home video for a limited time on March 10th.
Missing Information?
If any information appears to be missing from this page, contact us and let us know!