Movie Information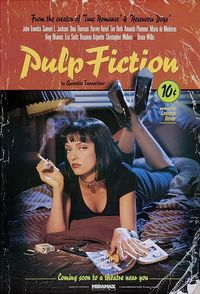 Pulp Fiction
Released: October 14, 1994
Credits
director

Quentin Tarantino
Movie Purchasing Links
Tarantino XX: 8-Film Collection:
Blu-ray
Song Credits
"MISIRLOU"


Written by FRED WISE, MILTON LEEDS, S.K. RUSSELL, NICHOLAS ROUBANIS
Performed by DICK DALE & HIS DEL-TONES
Courtesy of RHINO RECORDS

"COFFEE SHOP MUSIC"


Courtesy of CAPITOL/OLE
GEORG MUSIC

"JUNGLE BOOGIE"


Written by RONALD BELL, CLAYDES SMITH, GEORGE BROWN, ROBERT MICKENS, DONALS BOYCE, RICHARD WESTFIELD, DENNIS THOMAS, ROBERT BELL
Performed by KOOL & THE GANG
Courtesy of POLYGRAM SPECIAL MARKETS

"STRAWBERRY LETTER #23"


Written by SHUGGIE OTIS
Performed by THE BROTHERS JOHNSON
Courtesy of A&M RECORDS, INC.

"BUSTIN' SURFBOARDS"


Written by GERALD SANDERS, JESSE SANDERS, NORMAN SANDERS & LEONARD DELANEY
Performed by THE TORNADOES
Courtesy of GNP CRESCENDO RECORDS

"LET'S STAY TOGETHER"


Written by AL GREEN, AL JACKSON, JR., WILLIE MITCHELL
Performed by ALL GREEN
Courtesy of HI RECORDS
Under License From CEMA SPECIAL MARKETS

"SON OF A PREACHER MAN"


Written by JOHN HURLEY, RONNIE WILKINS
Performed by DUSTY SPRINGFIELD
Courtesy of ATLANTIC RECORDING CORP.
By Arrangement with WARNER SPECIAL PRODUCTS & POLYGRAM RECORD OPERATIONS LIMITED

"BULLWINKLE PART II"


Written by DENNIS ROSE, ERNEST FURROW
Performed by THE CENTURIANS
Courtesy of DEL-FI RECORDS INC.

"WAITIN' IN SCHOOL"


Written by JOHNNY BURNETTE, DORSEY BURNETTE
Performed by GARY SHORELLE
Produced by JOSEPH VITARELLI & NICK VITERELLI

"LONESOME TOWN"


Written by BAKER KNIGHT
Performed by RICKY NELSON
Courtesy of EMI RECORDS USA, A Division of ERG
Under License from CEMA SPECIAL MARKETS

"ACE OF SPADES"


Written by F.L. WRAY, SR., M. COOPER
Performed by LINK WRAY
Courtesy of ROLLERCOASTER RECORDS, ENGLAND

"RUMBLE"


Written by F.L. WRAY, SR., M. COOPER
Performed by LINK WRAY AND HIS RAYMEN
Courtesy of COLLERCOASTER RECORDS, ENGLAND

"SINCE I FIRST MET YOU"


Written by H.B. BARNUM
Performed by THE ROBINS
Courtesy of GNP CRESCENDO

"TEENAGERS IN LOVE"


Written by WILLIAM ROSENAUER
Performed by WOODY THORNE
Courtesy of GNP CRESCENDO RECORDS

"YOU NEVER CAN TELL"


Written by CHUCK BERRY
Performed by CHUCK BERRY
Courtesy of MCA RECORDS

"GIRL, YOU'LL BE A WOMAN SOON"


Written by NEIL DIAMOND
Performed by URGE OVERKILL
Courtesy of TOUCH AND GO RECORDS, INC.

"IF LOVE IS A RED RESS" (HANG ME IN RAGS)


Written by MARIA McKEE
Performed by MARIA McKEE
Courtesy of GEFFEN RECORDS

"FLOWERS ON THE WALL"


Written by LEWIS DEWITT
Performed by THE STATLER BROTHERS
Courtesy of MERCURY/NASHVILLE
By Arrangement with POLYGRAM SPECIAL MARKETS

"OUT OF LIMITS"


Written by MICHAEL GORDON
Performed by THE MARKETTS
Courtesy of GO-JO MUSIC

"SURF RIDER"


Written by BOB BOGLE, NOLE EDWARDS, DON WILSON
Performed by THE LIVELY ONES
Courtesy of DEL-FI RECORDS INC.
By Arrangement with RHINO RECORDS

"COMANCHE"


Written by THE REVELS
Performed by THE REVELS
Courtesy of DOWNEY RECORDS
Review: Pulp Fiction (Blu-ray)
by Dan Goldwasser
October 17, 2011
4.5 / 5 Stars
Quentin Tarantino's masterpiece came early in his career, in the form of 1994's Pulp Fiction. This homage to "pulp" stories began with the idea of a feature comprised of a variety of short films in the style from the old 1930s pulp magazines (which had short stories); instead it ended up as a feature with a non-linear story structure. One of the stories involves henchmen Vincent Vega (John Travolta) and Jules Winnfield (Samuel L. Jackson) who need to get a briefcase belonging to their crime boss Marsellus Wallace (Ving Rhames). Another involves a boxer named Butch (Bruce Willis) who Marsellus demands take a dive. A third involves Vega having to entertain Marsellus' wife Mia (Uma Thurman), but she has a bit of a drug addiction. And a fourth involves two robbers holding up a restaurant. But they're all related in one way or another, as becomes clear by the end of the film. In all of these stories, things never go well; in getting the briefcase, Vincent and Jules nearly get killed, Jules wants to retire, their inside man gets his head blown off inside their nice car (which now needs to be cleaned), Mia has an overdose, Butch crosses Marsellus and doesn't take the fall. It's two and a half hours long, but with so much going on - and so much great dialogue happening - Pulp Fiction never gets slow and never drags.
What makes Pulp Fiction work, at least for me, is the non-linear nature of it. It's not until the end that you can put all the pieces together to understand the narrative and how it all works - and when you 'get it', it's going to make you want to re-watch the film just to try to catch the little subtleties. The way the different seemingly-non-connected stories tie together is just brilliant. Tarantino is clearly a lover of films, and in more than one instance he's doing full-on homages to certain film styles. The acting performances are solid, with a great cast of characters, and the writing (which won the Academy Award for Best Original Screenplay) is bar none some of the best (and oft quoted) from any of the films that year. Tarantino's use of music in Pulp Fiction is unique - there is no underscore, and everything is done with source songs. The songs' lyrics tend to relate in one way or another (directly or subtly) to events and situations on screen, and Tarantino admits he even indicated in the script what songs should be used. It's that level of preparation that pays off in the final result. Violent and snappy, Pulp Fiction is not for all audiences. But it is, without a doubt, one of the best films of the 1990s.
Making its Blu-ray debut, Pulp Fiction was certainly given special treatment when it came to the new HD transfer, personally supervisied by director Quentin Tarantino. The detail is excellent, fine grain natural and not scrubbed clean through any excessive use of DNR, and the colors are well presented. While this is certainly not going to be a 'reference' transfer to show off your home theater, the 17-year old film looks quite good. Even better than that is the audio. A punch DTS-HD Master Audio 5.1 showcases all the snappy dialogue, explosive gunshots and sound effects, and immersive sound design. Even more impressive is the music, a character within the film itself, which is given a nice pristine polish and sounds phenomenal. In all, this is a stand-out track.
The supplements for Pulp Fiction brings us some oldies and goodies, as well as some new material. New for the Blu-ray is a great retrospective look back at the film, "Not the Usual Mindless Boring Getting to Know You Chit Chat" (HD, 43-minutes), in which new interviews with the cast and crew give us the kind of insight and perspective that only 1.5-decades of distance can give. Following that up is "Here Are Some Facts on the Fiction" (HD, 20.5-minutes), a roundtable discussion with a few film critics discussing the impact the film has had on culture and Hollywood since its release.
From the archive, we get "Pulp Fiction: The Facts" (SD, 30.5-minutes), a good piece done for the 2002 Collector's Edition DVD. While some of the material overlaps that of the new documentary, it's still nice to have this piece here showing more behind-the-scenes material. The "Deleted Scenes" (SD, 24.5-minutes) are enjoyable and insightful, but it would have been great if they could have gotten these in HD. (Understandable that they aren't, however.) Two "Behind the Scenes Montages" are presented, showing us a bit of the making of the "Jack Rabbit Slim's" (SD, 4.5-minutes) and "Butch Hits Marsellus" (SD, 6-minutes) sequences. "Production Design Featurette" (SD, 6.5-minutes) is a look at the look of the film, with the set decorator and production designer.
A rather length bit of accolade-based material then follows. "Siskel & Ebert At the Movies: The Tarantino Generation" (SD, 16-minutes) is an archival piece talking about the influence that Tarantino has on Hollywood. "Independent Spirit Awards" (SD, 11.5-minutes) is a tough-to-watch piece with Michael Moore interviewing a somewhat whacked out Tarantino. The "Cannes Film Festival: Palme D'Or Acceptance Speech" (SD, 5.5-minutes) is shown, as well as the complete hour-long "Charlie Rose Show" (SD, 55.5-minutes) interview with Tarantino. Whew. You certainly get a sense of this guy's personality, which might be a bit of a turn off to some people, since he's so intense and enthusiastic. But you have to admit, the guy loves films! A marketing gallery featuring five trailers (sadly all SD) and fourteen television spots is included, as well as a look at the posters and Oscar campaign that the film had. An extensive stills gallery is included, broken into "Behind the Scenes Photos", "Special Photo Shoots", "Production Stills", "Location Scouting and Set Construction", "Production Design and Logos" and "Props and Memorabilia".
In lieu of a commentary track (a shame since it would have been a great inclusion), we get a highly informative "Enhanced Trivia Track", which isn't really enhanced, but provides us with a great subtitle option, giving us all sorts of details on the film homage bits, music references, and much more. Speaking of music, the only real music "extra" is that of the ability to jump to a particular song in the film via the "Soundtrack Chapters" feature.
Pulp Fiction thrust Taratino into the spotlight, and deservedly so. His impressive use of dialogue, non-linear storytelling, quality acting and excellent music choices all combine together to make one heck of a film. Sporting a great new HD transfer, and a solid audio track and impressively dense number of extras, Pulp Fiction easily deserves a place in your home theater library.
4.5/5
Trailer Music Used From
Theatrical Trailer
"Girl, You'll Be A Woman Soon" - Urge Overkill
"Jungle Boogie" - Kool and the Gang
"Misirlou" - Dick Dale & His Del-Tones
Missing Information?
If any information appears to be missing from this page, contact us and let us know!