Movie Information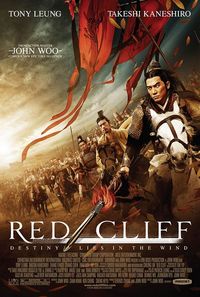 Red Cliff
Released: November 18, 2009
Credits
Review: Red Cliff (Domestic Edition Blu-ray)
by Dan Goldwasser
March 23, 2010
4 / 5 Stars
After his last American studio feature, Paycheck, director John Woo set his sights on returning to his native China to develop and film a pet project of his - the epic tale of the Battle of Red Cliff.  Based on the account as written in the 3rd century historical document "Records of the Three Kingdoms", Red Cliff was a monumental large-scale 280-minute film that - when released in Asia - was broken into two parts.  For the domestic US audience, however, a condensed 148-minute release was assembled, and has now been released on Blu-ray.
The story of the Battle of Red Cliff takes place in 208 AD, during the Eastern Han Dynasty, where Chancellor Cao Cao (Zhang Fengyi) led the Imperial Army  on a campaign to eliminate two southern warlords, Sun Quan (Chang Chen) and Liu Bei (You Yong).  After being defeated in battle, Liu Bei seeks to forge an alliance with Sun Quan to fight back against Cao Cao's army, and sends his chief advisor, Zhuge Liang (Takeshi Kaneshiro) to negotiate on his behalf.  Convinced that a alliance would be in his best interest, Sun Quan agrees, and a plan is formed to counter Cao Cao's army, which is approaching Red Cliff from both land and water.  Sun Quan's sister, Sun Shangxiang (Zhao Wei) has gone undercover and infiltrated Cao Cao's army, providing intelligence via carrier pigeon. It turns out that Cao Cao's army is suffering from a plague of typhoid fever (which he hopes to use as biological warfare against the allied army), and the allied army is suffering from a severe lack of arrows. But Sun Quan's military advisor Zhou Yu (Tony Leung) has a clever idea for a way not only to get the arrows they need, but a military strategy that might allow them to defeat Cao Cao and his army.
John Woo crafts the tale in an easy to understand manner, letting the various twists unfold while displaying a nice combination of character dramas with large-scale battle action.  The leads do a formidable job keeping the storyline moving forward, while providing depth to their characters, it's a highly engaging film that never slows down.  It should be pointed out that, because the domestic version cuts out nearly half of the material of the two-part international version, things might move along at a faster pace than expected, with some character motivation and backstory (as well as a few side plots) excised from the final product. 
The video transfer for the Blu-ray release is nearly perfect in every way.  There is no artificial enhancement to tarnish the image, and Woo's two cinematographers (Lu Yue and Zhang Li), did an excellent job showing off the film's grandiose locations and vistas.  If there is any flaw, it's that on occasion the visual effects don't quite look as realistic as the rest of the film, but for the most part it's very well done, with naturalistic colors, a vibrant palette that aids the emotions, and crisply displayed battles.  Audio is presented in only two options: Chinese DTS-HD Master Audio 5.1, and English (Dubbed) DTS-HD Master Audio 5.1  With the dialogue being the only major change, I'd personally recommend the Chinese track (and use the English subtitles) for a more authentic experience.  Audio is highly dynamic, with particular emphasis during the battle sequences in the surround sounds and subwoofer.  The music, by Taro Iwahiro, also gets a nice treatment, and dialogue is clear and vibrant.
Supplements on the Domestic Edition might seem anemic at first glance, but that's hardly the case. "The Making of Red Cliff: The Long Road" (SD, 146-minutes) is an amazingly in-depth and fascinatingly candid look at the making of the epic saga of Red Cliff.  Presented in Chinese with English subtitles, the nearly complete history of the bringing this classic tale to the screen is explored, as well as John Woo's dream of making the project.  From location scouting, to casting, to set building to principle photography, and more, nearly every aspect of this ambitious project is explored.  It's not the glossiest documentary on the making of a film, but the scope and honesty of the challenges faced while making the project comes across, and is quite impressive. It's probably one of the better behind-the-scenes pieces I've had the fortune to see.
"A Conversation with John Woo: The Heroism and History of Red Cliff" (HD, 27-minutes) is an interview conducted by talk show host Leo Quinones with Woo about the project.  His love of the material is plainly evident, and it makes for a great interview, with nearly every aspect of the film touched upon.  "HDNet: A Look at Red Cliff" (HD, 4.5-min) is a short EPK styled piece promoting the film to American audiences, extoling the success that it had in Asia. Hosted by Woo, he talks about his motivation in making the film, and what he tried to bring to the screen, and why it's worth checking out. Call this one a "motivational trailer", if you will.  Finally, a collection of 98 "Storyboards" with accompanying script notes rounds out the extras.
Red Cliff might be John Woo's crowning masterpiece, an epic film that showcases his unique ability to effectively blend both interesting characters and exciting action sequences.  That he chose as his subject matter a classic tale in Chinese history only makes the whole endeavor more appealing, since I personally had no previous knowledge of any of the story, and found the whole thing fascinating.  I would recommend the longer two-part cut of the film overall, but considering not everyone has five hours to devote to a film, those with an initial curiosity of the story would find the domestic edition satisfying enough.  With a rather impressively in-depth documentary on the making of the film, and a few other small extras, Red Cliff is certainly worth checking out.
Movie Ratings
Soundtrack.Net Users

Click stars
to rate.



Missing Information?
If any information appears to be missing from this page, contact us and let us know!