Movie Information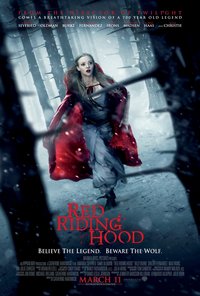 Red Riding Hood
Released: March 11, 2011
Credits
director

Catherine Hardwicke
Song Credits
"TOWERS OF THE VOID"


Written and produced by Anthony Gonzalez and Brian Reitzell

"CRYSTAL VISIONS"


Written by Milo Cordell and Robertson Furze

"FIRE WALKING"


Written and produced by anthony Gonzalez and Brian Reitzell

"THE WOLF"


Written by Karin Dreijer Andersson, Liliana Zavala, Christoffer Berg, Van Rivers and Peder Mannerfelt
p/k/a The Subliminal Kid
Produced by Karin Dreijer Andersson, Brian Reitzell, Liliana Zavala, Christoffer Berg, Van Rivers and Peder Mannerfelt
p/k/a The Subliminal Kid
Performed by Fever Ray
Fever Ray appears courtesy of Rabid Records

"KEEP THE STREETS EMPTY FOR ME"


Written by Cecilia Nordlund and Karin Dreijer Andersson
Performed by Fever Ray
Courtesy of Rabid Records
under exclusive license to Mute
Under license from EMI Film & Television Music

"LET'S START AND ORCHESTRA"


Written and performed by Ken Andrews and Biran Reitzell

"OZU CHORAL" and "PIANO STUDY NO. 1 (SYMOPHONIC)"


Written and performed by Brian Reitzell

"CRYSTAL VISIONS"


Written by Milo Cordell and Robertson Furze
Performed by The Big Pink
Courtesy of 4AD Records

"JUST A FRAGMENT OF YOU"


Written and produced by Anthony Gonzalez and Brian Reitzell
Performed by Anthony Gonzalez and Brian Reitzell
Review: Red Riding Hood (Blu-ray)
by Dan Goldwasser
June 29, 2011
2 / 5 Stars
2 Stars, but only because of the transfer and supplements!
When talking about Red Riding Hood, where does one begin?  The fable, whose origins trace back to the 14th century in France, has had numerous adaptations and retellings, probably made most famous by the Brothers Grimm in the 19th Century, but was likely based on the 17th Century French version written down by Charles Perrault.  All of the variations are classic in their own way, and allude to a variety of themes, from that of natural cycles, rebirth and even sexual awakening. The most recent film adaptation, the 21st Century film one by Catherine Hardwicke, focuses on those three particular themes - but is certainly not a classic, and will probably be relegated to the dustbin of history, both literary and cinematic.
It's clear from the start that Hardwicke wanted to stick with the Twilight formula, and try to milk the success of that franchise into this new project.  On the whole, the story seems to be quite reasonable and not at all bad: Valerie (Amanda Seyfried) is the daughter of a woodsman (Billy Burke), and has been sworn to marry the wealthy blacksmith's son Henry (Max Irons).  But she's been in love with Peter (Shiloh Fernandez), and thus the love triangle is formed.  Oh, and a werewolf has been terrorizing the village every month when the full moon rises. So when Valerie's sister is killed by the werewolf, she gets all upset, and her grandmother (Julie Christie) gives her a red cloak to, uh, help aid her suffering.  Or something like that.  The local priest (Lukas Haas) calls for famed werewolf slayer Father Solomon (Gary Oldman) to come save the village, and when he does, he begins a seek-and-interrogate mission that would make Torquemada feel right at home, even to the point of accusing Valerie of being a witch.
So even with all that, it's still not a terrible film, right? Wrong. Unfortunately, the film collapses under the dead weight of Orphan scribe David Johnson's screenplay, and the wooden performances by the cast.  When watching this film, you almost have to wonder what it was that compelled Julie Christie and Gary Oldman to sign up for this film. Granted, Oldman steals the show with his over-the-top performance, and Christie has aged magnificently, like a fine wine.  But why are they here?  I won't deny that the film itself is very pretty to look at, the cinematography surreal and quite befitting of a fairy-tale at times.  Unfortunately, it's just really hard to care about the characters, the plot is unnecessarily convoluted, and once the werewolf starts communicating with Valerie via telepathy (oh yes, there's that too!), then you just can't take this thing seriously anymore.  And don't even get me started on the village festival dance that has certainly too many allusions (unintentional, no doubt) to the horribly rave scene in The Matrix Reloaded.  Red Riding Hood doesn't quite make it into the "so bad that it's good" category.  It does, however, fall into the "I hope RiffTrax tackles this film" category, and I certainly hope that my wish comes true.
Released on Blu-ray, Red Riding Hood might not be a good film, but it's a good looking film.  The 1080p transfer showcases the dark stylistic look that Hardwicke asked cinematographer Mandy Walker to go for, with plenty of golden warmth for the plentiful fire-lit scenes, and deep blacks and rather sparkling bright highlights.  There is the occasional bit of murkiness when it comes to the detail in the blacks, but for the most part, it's a very well done transfer.  The movie also sports a DTS-HD Master Audio 5.1 English track that focuses primarily on front-heavy dialogue throughout the romantic elements of the film, but one that really lets loose once the wolf is in the scene.  It's those moments that stand out more, filling the soundscape with plenty of low end and surround-sound action, while dialogue remains clear in the front-and-center.  The music score by Brian Reitzell and Alex Heffes (supplemented with a few songs by Fever Ray that feel a little outplaced in a period flick) sounds fine, but doesn't really stand out much.  I suppose the reasoning was, if it worked in Twilight, then it probably would work here.

Considering how fast Red Riding Hood left theaters, it's not surprising that it makes its debut on home video three months later, and with a small but reasonably punchy assortment of extras.  First up is the "Alternate Cut" of the film. It's really not an alternate cut, though - if you choose to watch this version, the only differences come in the last ten minutes of the film, giving it an only slightly different ending.
"Secrets Behind the Red Cloak", a visual commentary track that runs the length of the film.  Director Catherine Hardwicke is joined by cast members Amanda Seyfried, Max Irons and Shiloh Fernandez.  Unfortunately it's a horribly dry and uncomfortable commentary, filled with silly jokes and only a spattering of worthwhile details.  Hardwicke is all over the map and seems lost at times, while Seyfried seems like she would rather be anywhere but there.  There do occasionally see behind-the-scenes footage instead of the commentary participants, but there was really no reason for this to be done as a visual commentary.  And interviewing more key members of the crew (instead of the cast) would have probably gleaned more information and details.  The most honest bit seems to come right at the opening credits, when Seyfried says, "You know, this is the best it gets; it's the best part of the movie…" and Max Irons replies "It's all downhill from here".  How very true.
In "Behind the Story", we have seven featurettes.  "The Reinvention of Red Riding Hood" (HD, 5.5-minutes) looks at the fairy tale origins of the story, and how it was revamped into a werewolf love triangle flick.  "Red Riding Hood: Red's Men" (HD, 3.5-minutes) is a brief look at the casting of Max Irons and Shiloh Fernandez. "Red Riding Hood: Making of the Score (HD, 11-minutes) is a pretty good look at the music of the film, with composers Brian Reitzell and Alex Heffes, but it gets a little slow when they try to demonstrate some of the unique instrumental techniques - a bit of editing would have tightened it up nicely.  "Before the Fur… Making of the CGI Wolf" (HD, 40-seconds) is not really a making-of featurette, but rather just a fast look at the background plates of the festival dance attack sequence. The full casting tapes for Irons and Shiloh are also included (HD, 7.5-minutes) as well as three rehearsals (HD, 6-minutes) which actually give a more interesting behind-the-scenes look than most of the other stuff so far.  The best supplement on the disc is "Red Riding Hood in 73 Seconds" (HD, 73-seconds) - a brilliant way to sum up how bad this film is, by providing a condensed version of it that uses only a handful of key lines to efficiently present everything that was wrong with the story and the screenplay. Brilliant.
We also get four "Deleted Scenes" (HD, 4.5-minutes) which show us a little more to the relationship between Valerie and her sister Lucie, as well as a scene that shows how she got along great with Grandmother. There's also a scene showing Cesaire imagining the good life.  A "Gag Reel" (HD, 2.5-minutes) shows a lot of blunders on the set, and two "Music Videos" (HD, 5.5-minutes) are included for "The Wolf" by Fever Ray, and "Just a Fragment of You" by Anthony Gonzalez and Brian Reitzell.  No trailers or other marketing material is included.
Red Riding Hood was one of those films that you definitely need to ask "how was this made"? Not the behind the scenes making-of, but rather, who thought it was a good idea? Granted, the idea of taking a timeless fable and giving it a new spin is hardly anything new, but once you get past that rather weak thread, we are just left with a story about a group of young adults feeling sorry for themselves, caught in a love triangle, and dealing with adversity in the form of overbearing parents, a werewolf, a vengeful minister, and a horrible script.  The Blu-ray might have a solid transfer and decent smattering of extras, but the film itself makes it tough to recommend.  If you feel like going to visit Grandmother's house, be forewarned that you might get bitten.
News &amp Articles
Missing Information?
If any information appears to be missing from this page, contact us and let us know!