Movie Information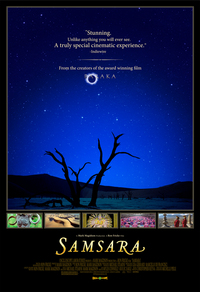 Samsara
Released: August 24, 2012
Song Credits
"BALI DANCE" AND "1000 HANDS"




BASED ON "OMAHA CLEAR SKIES"


FROM THE CD "STAR SONGS" (c) 2010
BY BONNIE JO HUNT & RON SUNSINGER
BONNIE JO PRODUCTIONS & SUNSINGER PRODUCTIONS

"BYSSAN LULL, KOKA KITTELIN FULL"


FROM THE ALBUM 'NIGHT LIGHT'
PERFORMED VY VIDIA WESENLUND
PUBLISHED BY STONE & STAR PUBLISHING (BMI)

"SPHERES"


WRITTEN & PERFORMED BY KEITH JARRETT
PUBLISHED BY CAVELIGHT MUSIC (BMI)
COURTESY OF ECM RECORDS

"SAYAT NOVA"


WRITTEN & PERFORMED BY DIJAN GASPARYAN
PUBLISHED BY EMI-VIRGIN SONGS, INC.
COURTESY OF ALL SAINTS RECORDS

"LA ILAHA ILLAH LAH / NIGUN LE MASHIAKH"


COMPOSED AND PERFORMED BY YUVAL RON
PUBLISHED BY YUVAL RON MUSIC (ASCAP)
WWW.YUVALRONMUSIC.COM
COURTESY OF YUVAL RON MUSIC

"KOTHBIRO"


PERFORMED BY AYUB OGADA
WRITTEN BY AYUB OGADA, MBARAK ACHIENG
PUBLISHED BY WOMAD MUSIC, LTD
(ADMIN BY EMI-VIRGIN SONGS, INC.) (BMI)
COURTESY OF REAL WORLD RECORDS

"SHENGSHIK PEMA JUNGNEY"


WRITTEN & PERFORMED BY CHOYING DROLMA & STEVE TIBBETTS
COURTESY OF HANNIBAL RECORDS
BY ARRANGEMENT WITH WARNER MUSIC GROUP FILM & TV LICENSING

"CALL TO PRAYER"


PERFORMED BY RADIO & TELEVISION SYMPHONY ORCHESTRA OF BOSNIA HERZEGOVINA
ARRANGED BY RESAD ARNAUTIVE
PUBLISHED BY SOUNDS TRUE
COURTESY OF SOUNDS TRUE, INC.
Missing Information?
If any information appears to be missing from this page, contact us and let us know!