Movie Information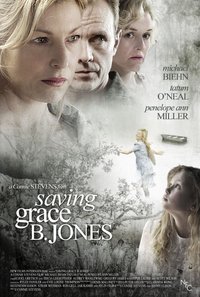 Saving Grace B. Jones
Released: December 14, 2012
Soundrack Albums
There are no soundtrack albums in our database for this title. If this is incorrect, please contact us.
Song Credits
BLUE SKIES


Performed by Deb Thomas and the Nashville Allstars
Courtesy of pigFACTORY USA LLC.
(c)2008 Irving Berlin Music

HADACOL BOOGIE


Written and Performed by Bill Nettles in 1950
Courtesy of Jasmine Records
(c)2006 Flat Town Music (BMI)/Nettles Publishing (BMI)

YOU BELONG TO ME


Performed by Patti Page
Courtesy of Sun Entertainment Corporation
Written by Lee Mons and Bernie Wayne
(c)2008 Gene Autrey Entertainment

SMOKE GETS IN YOUR EYES


Performed by the Platters
Courtesy of Cleopatra Records
by arrangement with pigFACTORY USA LLC.

SOUL FOOD


Performed by the 2nd Baptist Church Choir and Urban Empowerment Chior
Mane James, soloist
Columbia, MO
Written by Lester Woods

CHERIE CHERIE


Written By Lionel Wendling (SACEM) and James Hughes (SACAN)
Published by Kosinus APM (ASCAP)
Music Provided by APM Music

SUZANNE


Performed by Todd Taylor
Written by Paul Taylor
Courtesy of Marc Ferrani/MasterSource
(c)2008 Revision west (BMI)

WHAT A FRIEND WE HAVE IN JESUS


Music By Charles C. Converse
Written By Joseph Scriven
(c)1855

--end left column 1, start right column 2--

EVERY SINGLE DAY


Performed by Phil Friendly
Courtesy of Lee Silver Productions by arrangement
with pigFACTORY LLC.
Written by Philip Izvann
(c)2008 Brunswick Music Publishing (BMI)

COMING HOME TO YOU (PIGMIX)


Written and Performed By Johnny Boyd
Courtesy of Cliffdive Records by arrangement
with pigFACTORY USA LLC.
(c)2008 mgFACTORY USA LLC (ASCAP)

VALLEY OF BROKEN DREAMS


Performed by Stephen Bishop
Written by Stephen Bishop
Courtesy of Universal Music Publishing Group

I'M YOURS


Performed by Eddie Fisher
Courtesy of Universal Music Enterprises
Written by Robert Mellin
(c)2008 Used by Permission of Screen Grms-EMI Music Inc

THE WAY YOU LOOK TONIGHT


Performed By John Destler, Jeff Coella, Chris Colangelo, Mike Clinco, Kendall Kay
Written by Dorothy Fields and Jerome Kern
(c)2008 Universal Music Group and Shapiro Bernstein

SOMETHING BLUE


Damn Near Righteous
Performed by Bill Medley
Produced by Steve Dorff and Shayne Fair
Written by Bill LaBounty & Sam Lorber
Courtesy of InTune Productions, Inc.
(c)2006 Umversal Music Publishing Group

ARIA


Composed by Giacomo Puccini
Missing Information?
If any information appears to be missing from this page, contact us and let us know!