Movie Information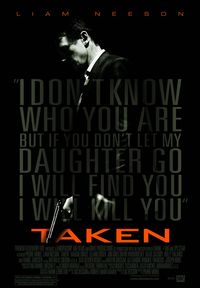 Taken
Released: January 30, 2009
Movie Purchasing Links
Song Credits
"The Dragster Wave"


Performed by Ghinzu
(Stargasm - Poe / Ghinzu)
From the Album "Blow" by Ghinzu (www.ghinzu.com)
(c) Contemporary Art
(P) 2003 Dragoon (Contemporary Art)
Courtesy of Barclay And Universal Music Vision, a Universal Music Publishing France Division

"Happy Birthday To You"


Patty Hill / Mildred Hill
(c) 1935 Summy Birchard Music Company
Courtesy of Warner Chappell Music France

"Change"


Performed by Joy Denalane Feat. Lupe Fiasco
(C. Mayfield / B. Krass / J. Denalane / M. Herre / S. Neblett / W. Jaco)
(c) Chi-Sound Music (Administered by Warner-Tamerlane Publishing) / BMG UFA Musikverlag GMBH & BMG Songs / Edition Red Balck & Green / Edition Soulguerilliero / Heavy as Heaven Music C/O Universal Music Publishing MGB France
Contains Sample from "I Want to Go Back" by Curtis Mayfield and Ben Krass
Courtesy of Warner Chappell Music France
(P) 2006 Nesola GMBH
Courtesy of Sony BMG Music Entertainment France

"California Girls"


(Brian Wilson / Mike Love)
(c) Sea of Tunes Publ. Co
Courtesy of Warner Chappell Music France

"Tick, Tick, Boom"


Performed by The Hives
Written by RAndy Fitzsimmons
(c) Kobalt Music Publishing Limited
(P) 2007 No Fun Ab
Courtesy of Polydor France and Universal Music Vision, a Universal Music Publishing France Division

"XTC"


Performed by Pauline De Saxe
(Pauline De Saxe - Pauline De Saxe / Jonathan Latorre)
(c) Tms Sl
(P) 2007- Soundjuice Records / Tms Sl
Courtesy of Soundjuice Records

"Inside My Head"


Performed by Pauline De Saxe
(Pauline De Saxe - Pauline De Saxe / Jonathan Latorre)
(c) Tms Sl
(P) 2007- Soundjuice Records / Tms Sl
Courtesy of Soundjuice Records

"Mout Ah Lik"


(Philippe Guez & Patrick Maarek)
K Musik / Kosinus

"Yesterdays Are Gone"


(Zachary Schaffer)
K Musik / KPM Music / Bad Ass Music
Review: Taken (2-disc Extended Cut Blu-ray)
by Dan Goldwasser
May 16, 2009
3 / 5 Stars
In Taken, retired CIA operative Bryan Mills (Liam Neeson) is trying to spend more time with his 17-year old daughter Kim (Maggie Grace), who is currently living with her mom (Famke Janssen) and step-father (Xander Berkeley).  When Kim wants to head off to Paris with her friend Amanda (Katie Cassidy), Bryan is reluctant - but ultimately convinced. After sharing a cab ride with a handsome stranger (Nicolas Giraud), Kim and Amanda settle into Amada\'s cousin\'s spacious apartment.  While talking to her dad on the phone, Kim witnesses men break into the apartment and abduct Amanda.  Realizing what is about to happen, Bryan explains to Kim that she is about to be kidnapped, and records the phonecall for clues.  Once the shock of what just happened to his daughter subsides, Bryan moves into action - calling in all manner of favors to get to Paris and track down his daughter before she falls off the grid - and enact revenge on anyone who gets in his way.  In the process, he strains the friendship he has with an old colleague Jean-Claude (Olivier Rabourdin), and heads deep into the underground human trafficking trade.  Can he get to his daughter before it\'s too late? 
With a slew of "personal revenge" films tanking at the box office (Death Sentence and The Brave One, among others), it was a bit surprising that Taken did so well. Maybe it\'s because after all of the torture-porn films like Saw, etc., audiences were happy to see a father do anything required - Jack Bauer style - to rescue his daughter.  Directed by Pierre Morel and written by Luc Besson and Robert Mark Kamen, Wanted might not sport the best acting or dialogue, but it has a great tight pace to it that grabs you once the kidnapping takes place, all the way to the ending.
Released as a 2-disc "Extended Cut" Blu-ray, Taken includes both the theatrical PG-13 (91-min), and unrated extended cuts (93-min) of the film.  The only real difference is the violence, which is increased a bit in the unrated edition, and a particular torture scene is a little more intense.  The video quality on the film is pretty solid.  Black levels are deep and allow subtle detail to be seen, and colors are nicely saturated.  There\'s a fine veneer of grain on the images, especially in the darker nighttime scenes, but those scenes tend to lose some detail in the darkness. The daylight scenes in particular look quite good with strong contrast - overall, an excellent transfer.  Audio is presented in English 5.1 DTS-HD Master Audio, Spanish 5.1 Dolby Digital, and French 5.1 Dolby Surround.  The DTS-HD track is crisp and clean, with dialogue rendered nicely in the center channel.  The action scenes benefit greatly from the surrounds, and every punch and kick is highly accentuated and the track is definitely one that you will feel.
Extras for the film are a little meager, signaling the distinct possibility of a future double-dip.  First up is a French commentary by director Pierre Morel and cinematographer Michel Abramowicz.  The two are clearly good friends, and have a nice banter to their comments. They discuss the stylistic approach to shooting the film, and other challenges faced filming the movie in Paris.  Because it\'s a French audio commentary track, there are English subtitles to read, but the background audio from the film is also the French language track, so it\'s a bit distracting at times since you have no lip sync to reference the film dialogue.  Otherwise, it\'s a very interesting and well done track.  Another commentary track is also included, featuring co-screenwriter Robert Mark Kamen.  Kamen discusses the evolution of the storyline, casting choices, and has a nice demeanor to his speaking style that makes it a more enjoyable track to listen to, compared with the other commentary which you have to read.

The remaining extras are slight, with just a short featurette, "Le Making Of" (SD 16x9, 18.5-min) which gives a surface-scraping look at the making of the film. Nothing really groundbreaking here, it\'s a by-the-books look at the project.  "Avant Premiere" (HD, 5-min) is a short look at the world premiere of the film, and "Inside Action: Side by Side Comparisons" (HD, 11-min) gives you six sequences where you can watch the action intercut and split-screened with B-roll footage showing how they shot it.  Oddly, there is a trailer for Notorious but none for Taken.
Finally, there\'s a Blu-ray exclusive, the "Black Ops Field Manual", which lets you watch the film with a data display overlaid along the top.  It keeps track of how many people have been killed, injured, how much time is remaining for Bryan to rescue his daughter, and the distance travelled in both miles and kilometers.  It also provides an intermittent trivia track about some of the real-world data points, as well as a visual "GPS" locator to show you where the action is taking place.  It\'s a pretty interesting extra!  The only other "extra" is the second disc, which is just a digital copy of the film.
Taken is a taut thriller, and while it might skirt the bounds of believability at times, it sports a solid transfer and audio. The extras only skirt the surface, so it\'s possible there might be a double-dip in the future, but for now I found the overall package to be quite satistfactory.
Missing Information?
If any information appears to be missing from this page, contact us and let us know!