Movie Information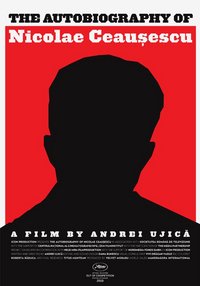 The Autobiography of Nicolae Ceausescu
Released: September 9, 2011
Soundrack Albums
There are no soundtrack albums in our database for this title. If this is incorrect, please contact us.
Song Credits
Simfonia a VII-a in La Major, op.92, partea a ll-a: Allegretto


muzica: Ludwig van Beethoven
dirijor: Rene Leibowitz
interpreteaza: Royal Philharmonic Orchestra
de pe albumul: Beethoven - Complete Symphonies - Rene Leibowitz
(c) 2004 Scribendum (UK), cu permisiunea Reader's Digest

Dimineata dupa nunta[?]


muzica si interpretarea: Ion Voicu
(c) 1961 UCMR-ADA, LP 086, Electrecord Romania SA

Mars de 1 Mai


muzica: Ciprian Porumbescu
versuri: Maria Rantes
dirijor: Sergiu Eremia
interpreteaza: Ansamblul Doina al Armatei
de pe albumul: Vechi cintece muncitoresti se revolutionare romanesti
(c) 1976 UCMR-ADA, LP 01197, Electrecord Romania SA

In tot ce e frumos pe lume


muzica: Elly Roman
versuri: Sasa Georgescu
interpreteaza: Aurelian Andreescu
de pe albumul: Aurelian Andreescu
(c) 2001 UCMR-ADA, CD EDC 403, Electrecord Romania SA

Compozitie muzicala pentru genericul filmului "Columna"


(fragmente)
muzica: Theordor Grigoriu
inregistrare orfana
(c) 1968 UCMR-ADA

Sarba fetelor


creatie populara
dirijor: Victor Predescu
interpreteaza: Orchestra de Muzica Populara Radio
(c) 1963 inregistrare Radio Romania

Nu mai plange Baby


muzica si versuri: Elly Roman
interpreteaza: Margareta Paslaru
de pe albumul: Margareta Pasalru
(c) 2002 UCMR-ADA, CD EDC 202, Electrecord Romania SA

I Fought the Law


muzica si versuri: Sonny Curtis
interpreteaza: The Bobby Fuller Four
inregistrare: Live at PJ's
(c) 1997 Sony/ATV, Acuff-Rose Music, Del-Fi Records

Hush Little Baby


aranjament muzical pe o tema traditionala: Bobby McFerrin
inregistrare orfana
(c) 1993 Universal Music Publishing International MGB Ltd. (BMI)

Poeme symphonique pentru 100 de metronoame


muzica: Gyorgy Ligeti
interpreteaza: Francoise Terrioux
inregistrare: Deutschland Radio, Funkhaus Koln, Germania
de pe albumul: Ligeti: Works for Barrel-Organ & Player Piano
(c) 1982 Schott Music, Mainz, Germania
(c) & (p) Sony Classica, a division of Sony Entertainment Holdings GmbH

Poporul, Ceausescu, Romania


muzica: George Grigoriu
versuri: Aurel Storin
inregistrari orfane
(c) UCMR-ADA

Zbor de cocori


muzica: Vasile Sirli
versurile: Corina Braneanu
interpreteaza: Eva Kiss
inregistrare orfana
prin bunavoita lui Vasile Sirli si a Evei Kiss

Romanasul


creatie populara
aranjament muzical: Gheorghe Danga
dirijor: Ion Vanica, artist emerit
interpreteaza Corul de Copii Radio
(c) 1964, inregistrare Radio Romania
Missing Information?
If any information appears to be missing from this page, contact us and let us know!