Movie Information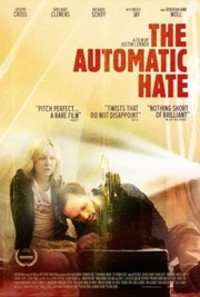 The Automatic Hate
Released: March 11, 2016
Movie Purchasing Links
Soundrack Albums
There are no soundtrack albums in our database for this title. If this is incorrect, please contact us.
Song Credits
"BACK THAT UP"


Performed by Coliuncensored
Courtesy of Justice League Music Group
Words and Music by Kenneth Bartolomei
Courtesy of Songs of Universal, Inc.
On behalf of itself and Bartor the Destroyer Publishing (BMI)

"DEAR FRIENDS"


Performed by Human Touch
Music by Natalia Rogovin and Nima Kazerouni
Lyrics by Natalia Rogovin
Courtesy of Natalia Rogovin Publishing (ASCAP) and Nima Kazerouni Music (BMI)

"DEBBIE'S SONG"


Performed by Boston Alley
Music and Lyrics by Travis Quentin Young and Raoul Guns,
Courtesy of Jax Records

"EMPTY VASE" Written and Performed by


Promised Land Sound
Courtesy of Paradise of Bachelors

"FAREWELL TO BILL"


Written and Performed by Duncan Thum
Courtesy of Duncan Thum

"HERE WE GO"


Performed by Copperpot ft. Pace Won
Written by Daniel Kuypers and Jerome Hinds
Courtesy of EV Productions, Inc.

"HOW'S ABOUT YOU"


Performed by Dave Rawlings Machine
From the album A Friend of a Friend on Acony Records
Words and Music by David Rawlings and Gillian Welch
Courtesy of Irving Music, Inc. on behalf of itself,  Say Uncle Music (BMI) and Cracklin' Music / BMG Bumblebee (BMI) c/o BMG Rights Management (US) LLC

"MAD MEN"


Written and Performed by Matt Friedman
Courtesy of Matt Friedman

"QUAND ON N'A QUE L'AMOUR"


Performed by Jacques Brel
Courtesy of Mercury France Records
Under license from Universal Music Enterprises
Words and Music by Jacques Romain G. Brel
Courtesy of Universal Music Corp.
On behalf of Les Ed. Tropicales (BMI)

"ˇYAAAAY!"


Written by Drew Denny
Performed by Big Whup
Courtesy of Big Whup Industries
Missing Information?
If any information appears to be missing from this page, contact us and let us know!