Movie Information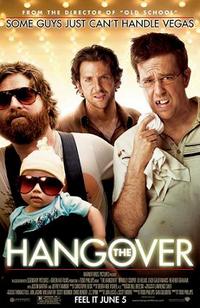 The Hangover
Released: June 5, 2009
Movie Purchasing Links
Song Credits
"IT'S NOW OR NEVER"


WRITTEN BY AARON SCHROEDER, WALLY GOLD, EDUARDO DICAPUA, GIOVANNI CAPURRO AND ALFREDO MAZZUCHI
PERFORMED BY EL VEZ
COURTESY OF GARCIASLAND RECORDS

"THIRTEEN"


WRITTEN BY GLENN DANZIG
PERFORMED BY DANZIG
COURTESY OF EVILIVE RECORDS
BY ARRANGEMENT WITH REACH GLOBAL, INC.

"TAKE IT OFF"


WRITTEN BY BRETT ANDERSON, MAYA FORD, ALLISON ROBERTSON AND TORRANCE CASTELLANO
PERFORMED BY THE DONNAS
COURTESY OF ATLANTIC RECORDING CORP.
BY ARRANGEMENT WITH WARNER MUSIC GROUP FILM & TV LICENSING

"CAN'T TELL ME NOTHING"


WRITTEN BY KANYE WEST, ALDRIN DAVIS AND CONNIE MITCHELL
PERFORMED BY KANYE WEST
COURTESY OF THE ISLAND DEF JAM MUSIC GROUP
UNDER LICENSE FROM UNIVERSAL MUSIC ENTERPRISES

"WHO LET THE DOGS OUT"


WRITTEN BY ANSLEM DOUGLAS
PERFORMED BY BAHA MEN
COURTESY OF VIRGIN RECORDS AMERICA
UNDER LICENSE FROM EMI FILM & TELEVISION MUSIC

"LIVE YOUR LIFE"


WRITTEN BY DAN BALAN, CLIFFORD HARRIS, MAKEBA RIDDICK AND JUSTIN SMITH
PERFORMED BY T.I. (FEATURING RIHANNA)
COURTESY OF ATLANTIC RECORDING CORP.
BY ARRANGEMENT WITH WARNER MUSIC GROUP FILM & TV LICENSING
RIHANNA APPEARS COURTESY OF THE ISLAND DEF JAM MUSIC GROUP
UNDER LICENSE FROM UNIVERSAL MUSIC ENTERPRISES
CONTAINS A SAMPLE OF "DRAGOSTEA DIN TEI"
PERFORMED BY O-ZONE
COURTESY OF TIME S.P.A. (ITALY) AND ULTRA RECORDS, INC. (U.S.A.)
UNDER LICENSE FROM MEDIA SERVICES (ROMANIA)

"YEAH!"


WRITTEN BY JAMES PHILLIPS, CHRISTOPHER BRIDGES, LaMARQUIS JEFFERSON, PATRICK SMITH, SEAN GARRETT AND JONATHAN SMITH
PERFORMED BY USHER FEATURING LUDACRIS AND LIL JON
COURTESY OF LaFACE RECORDS AND THE RCA/JIVE LABEL GROUP, A UNIT OF SONY MUSIC ENTERTAINMENT
BY ARRANGEMENT WITH SONY MUSIC ENTERTAINMENT

"FEVER"


WRITTEN BY EDDIE COOLEY AND JOHN DAVENPORT
PERFORMED BY THE CRAMPS
COURTESY OF CAPITOL RECORDS
UNDER LICENSE FROM EMI FILM & TELEVISION MUSIC

"WHAT DO YOU SAY?"


WRITTEN BY MICKEY AVALON, JONATHAN SMITH, SIMON REX AND ARMEN MELIK
PERFORMED BY MICKEY AVALON FEATURING DIRT NASTY & ANDRE LEGACY
COURTESY OF INTERSCOPE RECORDS
UNDER LICENSE FROM UNIVERSAL MUSIC ENTERPRISES
CONTAINS A SAMPLE OF "KING KONG KITCHIE KITCHIE KI-ME-O"
TRADITIONAL
PERFORMED BY CHUBBY PARKER
COURTESY OF COLUMBIA RECORDS
BY ARRANGEMENT WITH SONY MUSIC ENTERTAINMENT

"WEDDING BELLS (ARE BREAKING UP THAT OLD GANG OF MINE)"


WRITTEN BY SAMMY FAIN, IRVING KAHAL AND WILLIAM RASKIN
PERFORMED BY GENE VINCENT & HIS BLUE CAPS
COURTESY OF CAPITOL RECORDS
UNDER LICENSE FROM EMI FILM & TELEVISION MUSIC

"STU'S SONG"


WRITTEN BY TODD PHILLIPS AND ED HELMS
PERFORMED BY ED HELMS

"IN THE AIR TONIGHT"


WRITTEN AND PERFORMED BY PHIL COLLINS
COURTESY OF ATLANTIC RECORDING CORP.
BY ARRANGEMENT WITH WARNER MUSIC GROUP FILM & TV LICENSING
LICENSED COURTESY OF VIRGIN RECORDS LTD.

"GRANDMA'S HANDS"


WRITTEN AND PERFORMED BY BILL WITHERS
COURTESY OF COLUMBIA RECORDS
BY ARRANGEMENT WITH SONY MUSIC ENTERTAINMENT

"RHYTHM AND BOOZE"


WRITTEN BY BUCK OWENS
PERFORMED BY TREAT HER RIGHT
COURTESY OF ROUNDER RECORDS

"JOKER AND THE THIEF"


WRITTEN BY ANDREW STOCKDALE, CHRIS ROSS AND MYLES HESKETT
PERFORMED BY WOLFMOTHER
COURTESY OF UNIVERSAL MUSIC AUSTRALIA PTY. LTD.
UNDER LICENSE FROM UNIVERSAL MUSIC ENTERPRISES

"IKO IKO"


WRITTEN BY ROSA LEE HAWKINS, BARBARA ANN HAWKINS AND JOAN MARIE JOHNSON
PERFORMED BY THE BELLE STARS
THE BELLE STARS APPEAR COURTESY OF DEMON MUSIC GROUP LTD.

"RIDE THE SKY II"


WRITTEN BY JASON HAMPTON AND MIKE VALLELY
PERFORMED BY REVOLUTION MOTHER
COURTESY OF FERRET MUSIC

"THREE BEST FRIENDS"


WRITTEN AND PERFORMED BY ZACH GALIFIANAKIS

"FAME"


WRITTEN BY MICHAEL GORE AND DEAN PITCHFORD
PERFORMED BY THE DAN BAND

"CANDY SHOP"


WRITTEN BY CURTIS JACKSON AND SCOTT STORCH
PRODUCED BY GEORGE DRAKOULIAS
PERFORMED BY DAN FINNERTY

"RIGHT ROUND"


WRITTEN BY PETER JOZZEPI BURNS, STEPHEN COY, FLO RIDA, JUSTIN SCOTT FRANKS, LUKASZ GOTTWALD, ALLAN GRIGG, PHILIP MARTIN LAWRENCE II, TIMOTHY JOHN LEVER, BRUNO MARS AND MICHAEL DAVID PERCY
PERFORMED BY FLO RIDA
COURTESY OF ATLANTIC RECORDING CORP.
BY ARRANGEMENT WITH WARNER MUSIC GROUP FILM & TV LICENSING
Review: Hangover, The
by Dan Goldwasser
May 30, 2009
3.5 / 5 Stars
The premise of The Hangover is pretty straightforward: a bachelor party in Vegas goes horribly wrong when the groom goes missing and the participants who canít remember anything that took place retrace their steps to find out exactly what happened.
Doug (Justin Bartha) is taken to Vegas with his friends Phil (Bradley Cooper) and Stu (Ed Helms), and his future brother-in-law Alan (Zach Galifianakis). When Alan accidentally puts roofies in the Jaegermeister, they wake up the next morning not knowing what exactly transpired. The hotel suite is a mess, thereís a tiger in the bathroom, thereís a baby in the closet, Stu (a dentist) is missing a tooth, and Doug is nowhere to be found. With the wedding only 24 hours away, the gang has to retrace their steps to find out where Doug is, and to top it off, their car is now apparently a stolen police car. The journey takes them on an adventure that crosses paths with Chinese gangsters, Mike Tyson, hospital rooms and plenty of strippers.
Directed by Todd Philips (Old School) the film is pretty much a non-stop ride. Itís silly and always entertaining. Working from the basic premise allows the viewer to just go with the flow, and while there might be a few low-brow moments, itís worth the journey to see how they retrace their steps from point B back to point A.
As is typical with these types of films, the music is predominantly source songs, but composer Christophe Beck provides a rocking contemporary score to carry the journey forward. The end credit photo montage is brilliant, and while I donít know how well the film will work on a second viewing, The Hangover was an adult comedy that made me laugh Ė a lot.
Trailer Music Used From
Theatrical Trailer
"Livin Your Life" - T.I. featuring Rihanna
News &amp Articles
Missing Information?
If any information appears to be missing from this page, contact us and let us know!