Movie Information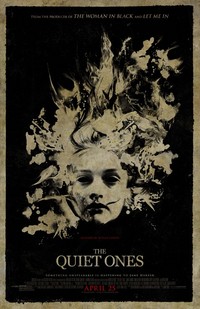 The Quiet Ones
Released: April 25, 2014
Song Credits
"Cum on Feel the Noize"


Performed by Slade
Written by Neville Holder & James Lea
Licensed courtesy of While John Music Ltd. & Barn Publishing (Slade) Ltd.

"Telegram Sam"


Performed by T. Rex
Written by Marc Bolan
Courtesy of Spirit Music Publishing Limited

"Bertha Butt Boogie"


Performed by The Jimmy Castor Bunch
Written by Jimmy Castor & John L Pruitt
Published by Minder Music
Courtesy of Atlantic Recording Corp.
By arrangement with Warner Music Group Film & TV Licensing

"Angel"


Performed by the Acorns
Written by Vincent Catalano
Courtesy of Gravelpit Muise

Radio Caroline jingle provided by Radio Caroline

"Silver Machine"


Written by Robert Calvert and Steve MacManus
Performed by Steven Roth
Courtesy of Cutting Edge Music Holdings
(c) 1972 Published by EMI United Partnership ltd.
Missing Information?
If any information appears to be missing from this page, contact us and let us know!