Movie Information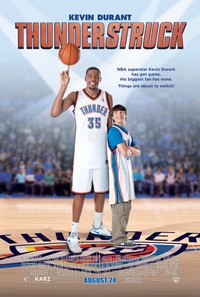 Thunderstruck
Released: August 24, 2012
Soundrack Albums
There are no soundtrack albums in our database for this title. If this is incorrect, please contact us.
Song Credits
"Gonna Get Em"


Written by Jimmy F. Jimenez-Parra nd Jonathan Royster
Performed by Deyon Davis, Jonathan Royster and Jimmy Jiminez-Parra, featuring "Jay Real Tha Legendary," "California Kid," "Dirty D. Hustle" and "MC Jim-Nazel"
Courtesy of Cinematic Tunes

"Victory"


Written by G.J.H. Mulder & TJ Oosterhuis
Performed by Brainpower
Courtesy of LYRIC Recordings

"New Swagga Slide"


Written by Emmanuel T. Duncan and Zachary Glaros
Performed by Envy
Courtesy of Press Play Inc.
By arrangement with Fine Gold Music LLC

"Upside Down"


Written by Joachim Rygg, Hillary Bernstein, Abdul Nasser Saleh and Jonathan Laham
Performed by The DNC
Courtesy of Recurrent Records/Position Music

"Move Like This"


Written by KC Booker, Javarae Forrest and Max Cowan
Performed by Hammerwax
Courtesy of Rolling Jack Records
By arrangement with RipTide Music Inc.

"Too Much, Too Young, Too Fast"


Written by Joel Francis O'Keeffe and Victor James Wright
Performed by Airbourne
Courtesy of Roadrunner Records
By arrangement with Warner Music Group Film & TV Licensing
Courtesy of EMI Music Australia Pty Limited

"My Baby Likes To Rock It"


Written and performed by Prentis Goodwin
Courtesy of pigFACTORY USA LLC

"Brand New Shoes"


Written by Joseph Smart, Yusef Jackson, Ali Theodore and Nick "Wiz" Loizides
Performed by Nomadik

"All Night"


Written by Jared Gosselin, Jeffery Bluestein and Michael Sundberg
Performed by Brilliance
Courtesy of Strange Science Music
By arrangement with The Royalty Network, Inc.

"Smoke Alarm"


Written by Erick Ramon Eddings and Farzad Rashedi
Performed by Freddy Rawsh
Courtesy of Track Static Productions & BZEE ROC Music Group, LLC
By arrangement with Spirit Music Group, Inc.

"I'm Gonna Make It"


Written by Marcus Bell
Performed by Bellringer
Courtesy of InDigi Music / Bellringer Productions LLC

"Get Ready For This (YAR Rap Mix)"


Written by Ray Slijngaard, Phil Wilde, Jean-Paul De Coster and Simon Harris
Performed by 2 Unlimited
Courtesy of Byte Records Belgium

"She's A Freak"


Written by Pascal Guyon and Allan Eshuijs
Performed by Allan Eshuijs

"Touch The Sky"


Written by Vincent Silva
Performed by LehtMoJoe, Xavier Marquis and Sedrick Stylez
Courtesy of Crucial Music Corporation

"Watcha Gonna Do"


Written by Chris McCamy, Rico Reid, Todd Collins and John Painter
Performed by Fresh Digress
Courtesy of Beatmart Records / Position Music

"We Love That Basketball"


Written by Nick "Wiz" Loizides, Yusef Jackson, Ali Theodore and Sergio M. Cabral
Performed by The DeeKompressors, featuring Nomadik & V12
Courtesy of DeeTown Entertainment

"Come On"


Written by Vincent Alfieri, John McCurry, Michael Klein and Ali Theodore
Performed by Jack Miz
Courtesy of DeeTown Entertainment
Missing Information?
If any information appears to be missing from this page, contact us and let us know!