Movie Information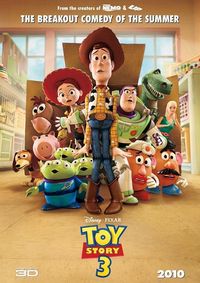 Toy Story 3
Released: June 18, 2010
Movie Purchasing Links
Song Credits
"we belong together"


written and performed by randy newman
produced by mitchell froom

"you've got a friend in me"


written and performed by randy newman

"you've got a friend in me (para buzz espanol)"


musica nd lyrics by randy newman
performed by gipsy kings
featuring nicolas reyes and tonino baliardo
produced by tonino baliardo and nicolas reyes

"dream weaver"


written and performed by gary wright
courtesy of warner bros. records inc.
by arrangement with warner music group film & tv licensing

"le freak"


written by bernard edwards and nile rodgers
performed by chic
courtesy of atlantic recording corp.
by arrangement with warner music group film & tv licensing
Review: Toy Story 3 (Blu-ray)
by Dan Goldwasser
November 14, 2010
4.5 / 5 Stars
In 1995's groundbreaking Toy Story, we were introduced to Woody (Tom Hanks) and the gang. When a new toy, Buzz Lightyear (Tim Allen) was introduced to the group, Woody was convinced he was going to be replaced as Andy's favorite toy.  By the end of the film, after a series of adventures, the two were best buddies. In 1999's Toy Story 2, the dynamic took a bit of a turn when Woody is stolen by a toy dealer, and discovers that he's a collectable.  Buzz and the gang ultimately rescue Woody, and a few new members of "Woody's Roundup" are added to the gang.  Where does one go with the story, for a third outing?  If a toy's greatest fears are abandonment, then the worst thing that could happen to a toy is that its owner grows up and tosses the toy away.  This is the case in Toy Story 3, which comes 11-years later.  Now a teenager, Andy is preparing to go to college and has to decide which toys get taken with him, put in storage in the attic, or donated to Sunnyside, a local day care.
After a bit of a misunderstanding, Buzz and Jesse (Joan Cusack), along with Mr. Potato Head (Don Rickles), Mrs. Potato Head (Estelle Harris), Rex (Wallace Shawn), Hamm (John Ratzenberger) and Slinky Dog (Blake Clark) believe they are being thrown out, while Woody was picked for college.  They decide to go to Sunnyside instead, and when Woody tries to explain that they weren't actually meant to be thrown out - and were intended to the attic - he gets stuck in the car with them and taken to Sunnyside.  There they discover a veritable paradise full of toys, and a multitude of kids who seem eager to play with them.  Barbie (Jodi Benson) even finds her match, Ken (Michael Keaton), and everything seems to be happy.  Woody insists that they go back to Andy, but Buzz and the others want to stay at the day care.  Disappointed, Woody escapes - but is soon found by Bonnie, and taken to her home.
Back at Sunnyside, the toy leader is a plush teddy bear, Lotso (Ned Beatty), who seems to welcome them with open arms, but very soon, things turn out to be quite the opposite.  Buzz and the gang are abused by the kids who are not age-appropriate for them, and it becomes clear that Sunnyside is more of a prison than a paradise, ruled by a very dictatorial Lotso.  When Buzz tries to confront Lotso and his subordinates, they "reset" him, turning him against the gang when they try to escape.  Meanwhile at Bonnie's, Woody meets her toys, an acting troupe featuring Dolly (Bonnie Hunt), Trixie (Kristen Schaal), and thespian Mr. Pricklepants (Timothy Dalton).  He learns from the clown Chuckles (Bud Luckey) what Lotso's backstory is, and how Sunnyside has turned into a gulag.  He then makes it his mission to get back into Sunnyside, rescue Buzz and the gang, and get them all safely back to Andy.
Toy Story 3 is directed by Lee Unkrich and written by Michael Arndt (Little Miss Sunshine) based on a story by John Lasseter, Andrew Stanton and Unkrich.  The storytellers at Pixar have created another masterpiece; a powerfully moving story about loyalty and abandonment, friendship and respect.  The last act of the film is exciting, heartbreaking, and incredibly moving - if you don't have tears in your eyes during the last scene, then your own humanity can rightfully be called into question.  The vocal acting is top notch, and the story pacing pitch-perfect.  The music score by Randy Newman references musical motifs from the other two scores, but there are times - especially towards the climax of the film - where it sounds much bigger and more dramatic than we're used to hearing in a Toy Story film, and the end title song feels a bit forced; the Gypsy Kings rendition of "You've Got a Friend in Me" is a lot more engaging.  Still, this is one of the best films of the year, and absolutely worth seeing.
To call Toy Story 3's digital presentation on Blu-ray "picture perfect" still wouldn't do the imagery justice.  This is about as perfect a presentation as one can get. The colors are fully saturated without ever feeling overblown, there is no noticeable compression to speak of, and the best part of the transfer is the immaculate detail in every shot.  Textures are so lifelike that you can almost feel every bit of vinyl, plastic, and cloth as though it were an actual real-world item. Hair - and especially fur - is amazingly realistic, not to mention the organic material like trees and grass as seen in the outdoors sequences.  The rendered look of the film is more realistic than the past two Toy Story films, with soft shadows, depth of field, and HDR lighting all helping sell the environments as tangible locations.
Audio is similarly lifelike.  The primary track is a DTS-HD Master Audio 7.1 English one, and it's about as reference quality as they come. With no production audio to speak of, everything was created in a recording booth, from the crystal clear dialogue, to the wholly immersive foley and sound effects, and the nicely dynamic musical score by Randy Newman.  Watching the junkyard climax of the film will rumble your home theater, and the surrounds are used extensively to help sell the ambience of the locations.  This is pure demo material. Also included is an English DTS-HD Master Audio 5.1 ES track, an English Descriptive Video Service 2.0 track, a French Dolby Digital 5.1 EX track, and a Spanish Dolby Digital 5.1 EX track.
Toy Story 3 comes to us on a 4-disc combo set, comprised of two Blu-rays, one DVD, and one Digital Copy disc. It's not entirely clear as to why there are two Blu-rays, but I'll address that below.  On the first disc, along with the feature film, we first get the Pixar animated short film that was paired with the movie during its theatrical run, Day & Night (HD, 6-minutes).  One of the most original short films I've seen, this is a 3D animated film seen through 2D animated characters, in an allegorical story that is driven primarily by Michael Giacchino's music.  "Buzz Lightyear Mission Logs: The Science of Adventure" (HD, 5-minutes) is a quick educational short promoting NASA and their efforts to further space exploration.  "Toys!" (HD, 7-minutes) looks at the design of the new toys featured in the film, as well as the technological updates that the original Toy Story gang went through for this new film.
The second disc includes the full feature film, again - but this time with the extras that one would have expected on the first disc.  "Cine-Explore Picture-in-Picture Commentary" (HD, 103-minutes) features director Lee Unkrich and producer Darla K. Anderson talking about the whole process of making the film, supplemented with photos and video footage in smaller windows that appear on the screen.  It's got a wealth of information, and is highly recommended.  Not as interesting to people less technologically oriented is a second commentary, "Beyond the Toybox: An Alternative Commentary Track".  Tech geeks will love the information coming from supervising animators Bobby Podesta and Mike Venturini, production designer Bob Pauley, supervising technical director Guido Quaroni, and story supervisor Jason Katz.  It's filled with all sorts of information, but with a clear focus on the technological challenges that the Pixar team faced when making the new film, over ten years after the last Toy Story film. Interestingly, when watching the film with this second commentary, the picture-in-picture elements from the "Cine-Explore" mode aren't on screen.  That leaves me to wonder why they didn't just put the Cine-Explore and second commentary track on the first disc, with the full audio tracks… and I have a feeling it is so that they can sell the same first disc individually, without all the extras.
Unfortunately, by doing so, it feels like the second disc is missing a lot of extras that could have been there, but for the disc space taken up by the film being there.  We do get quite a bit more extras, though - just not in the level of detail we had come to expect from other Disney releases.  Starting in the "Family Play" section, we get a new featurette, "The Gang's All Here" (HD, 11-minutes), which talks about the return of the voice talent to the new film, as well as the new additions for this third film.  "Goodbye Andy" (HD, 8-minutes) looks at the improvements that Pixar made in regards to animating human characters, as well as the incredibly moving ending to the film.  "Accidental Toymakers" (HD, 4-minutes) is one of those "wow" moments, when you find out that none of the main toy manufacturers wanted anything to do with the original Toy Story film, and the small toy company that took a risk came out ahead when the film was a success.  "A Toy's Eye View: Creating a Whole New Land' (HD, 5.5-minutes) looks at the Disney Theme Park integration of Toy Story characters and locations, with a few of the different Disney Imagineering attractions worldwide that are based on the films.  "Epilogue" (HD, 4.5-minutes) is the film's epilogue, but in full screen (4:3 ratio) instead of in a small box as the credits roll.
In the "Film Fans" section, we get the "Cine-Explore" and "Beyond the Toybox" commentaries mentioned earlier, as well as another handful of featurettes.  "Roundin' Up A Western Opening" (HD, 5.5-minutes) looks at the original idea for the opening to the film, which was ultimately scrapped and replaced with the exciting Western tableau that is in the film.  "Bonnie's Playtime: A Story Roundtable" (HD, 6.5-minutes) features a group discussion about the different ideas they had for Bonnie's group of toys, before settling on the idea that they were an acting troupe. "Beginnings: Setting a Story in Motion" (HD, 8-minutes) is a great little primer from screenwriter Michael Arndt about how to get a script started, with a focus on Act 1, and the types of setups one might typically need for their characters, with the aim of making a good screenplay.
"Life of a Shot" (HD, 7-minutes) looks at the opening of the film with all the people involved, from the tiniest details to the broader scope, and how everyone's role was important.  "Making of 'Day & Night'" (HD, 2-minutes) is a very short EPK styled promo with director Teddy Newton talking about how they made the short film.  "Paths to Pixar: Editorial" (HD, 4.5-minutes) looks at the editors at Pixar, and the challenges they face to tell the story in the most efficient and entertaining way possible.
Three "Studio Stories" bits are also here; these are small 2D animated pieces that tell an amusing story from someone at Pixar, about something interesting.  "Where's Gordon?" (HD, 2-minutes) talks about a secret room hidden behind Andrew Gordon's office, and the celebrity guests who would want to check it out; "Cereal Bar" (HD, 1.5-minutes) looks at the amazing array of cereal offered to the Pixar employees; "Clean Start" (HD, 3-minutes) talks about the bet that the guys at Pixar made at the start of Toy Story 3, whereby everyone had to shave their head, and then see who would last the longest without getting a haircut or shaving their beards.  These are all great little anecdotes, but it would have actually been more interesting to see photos or video of the real things, instead of drawn representations.
In the "Games and Activities" section, we have one game: "Toy Story Trivia Dash".  This BD-Live powered trivia game focuses on either all three Toy Story films, or just the third one. In the "Publicity" section we have an impressive array of extras.  "Grab Bag" (HD, 4-minutes) is a bunch of interstitials that showed up in movie theaters to promote the film; "Ken's Dating Tips" (HD, 1.5-minutes) features Michael Keaton as Ken talking about how to woo the ladies; "Lots-o'-Huggin' Bear Commercial 1" (SD, 30-seconds) is a fake "vintage" VHS commercial; same with "Lots-o'-Huggin' Bear Commercial 2 (Japan)", but the Japanese version. "Making of the Lots-o-Huggin' Bear Commercials" (HD, 1.5-minutes) isn't really a making-of, since nothing is explained, but just provides some before-and-after shots, and outtakes from the fake commercial shoot.
"Internet Chat", "Security Cam", and "Gadgets" (each HD, 1-minute) are three short teaser spots to promote the film. "'Dancing with the Stars' at Pixar" (HD, 2.5-minutes) talk about the two dancers who came into Pixar to help choreograph the Spanish Buzz/Jesse dance sequence.  "TS3 Silence Trailer" (HD, 40-seconds) is a quick teaser telling people to turn off their phones and not talk during the movie.  "TS3 Antipiracy Trailer" (HD, 1-minute) tells people not to illegally videotape the film.  Finally, we start to get into the actual film trailers: "TS3 Teaser Trailer" (HD, 2-minutes), "TS3 Trailer 2" (HD, 2.5-minutes), "TS3 Trailer 3" (HD, 2.5-minutes), "TS3 Japan Teaser Trailer 1" (HD, 1-minute), "TS3 Japan Trailer 2" (HD, 3-minutes).  "Character Intros" (HD 2-minutes) is a quick look at the new characters. Finally, we get a "Poster Gallery", which includes all 25 different posters for the film.
It's a little disappointing that we didn't get any other artwork galleries, like we have done with other Pixar films, or some stuff that focuses more on the technological developments made between the second and third films in the series.  Even more disappointing is the lack of any solid extra on Randy Newman's new songs and score for the film.  I wonder if they could have done that if they put the feature-length material on the first disc, and then kept the second disc open for all the bonus material.
Still, although it doesn't have as many extras as some other Disney Blu-ray releases, Toy Story 3 does contain a wealth of extras, sports a stellar audio and video presentation, and is one of the best films of 2010. That alone makes this Blu-ray release a must-have, and if you haven't gotten it already, you should definitely pick it up right away.
---
We've been provided with a few photos from Randy Newman's scoring session for Toy Story 3, which took place at the Sony Scoring Stage.
Photos by Deborah Coleman. © Disney/Pixar. All Rights Reserved. Used with Permission. Special thanks to Dre Birskovich at Click Communications
News &amp Articles
Missing Information?
If any information appears to be missing from this page, contact us and let us know!