Movie Information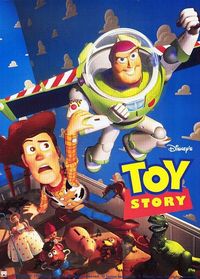 Toy Story
Released: November 22, 1995
Movie Purchasing Links
Review: Toy Story / Toy Story 2 (in 3D)
by Dan Goldwasser
September 16, 2009
4 / 5 Stars
In 1995, a groundbreaking film hit theaters and changed the course of animation forever. Pixar's first feature-length computer-animated film, Toy Story, brought toys to life, with the story of a rivalry between cowboy doll Woody (Tom Hanks) and new space ranger toy Buzz Lightyear (Tim Allen), fighting for the affection of their owner, Andy. Woody's jealousy of Andy's shifting attention leads him to knock Buzz out of the window, but after both toys are lost at Pizza Planet and captured by the destructive neighbor Sid (who likes to destroy toys), Woody and Buzz must team up to save each other and get back to Andy.
Toy Story was a smash hit, and a few years later, spawned Toy Story 2. Now that Woody and Buzz are good pals, the filmmakers needed a new spin on things. It turns out that Woody is a collectible - and he's stolen by a toy collector who wants to sell a complete set of the "Woody's Roundup" gang to a Japanese collector. Jessie (Joan Cusack) and Stinky Pete (Kelsey Grammar) try to convince Woody that he will have a better time being treated with respect, while Woody tries to convince them that Andy is a great owner. But Jessie's previous experience with her old owner has made her convinced that Andy will eventually abandon Woody, and he's better off sticking with them. Meanwhile, Buzz and the rest of the toy gang from Andy's room are mounting a rescue mission that takes them to Al's Toy Barn - and an unintended confrontation with Buzz Lightyear's arch nemesis, the evil Zurg. Toy Story 2 did a good job of continuing the story, and adding new elements to keep things fresh, and expand upon the characters. Even the supporting cast, like T-Rex (Wallace Shawn) and the cynical Mr. Potato Head (Don Rickles) get to flesh their characters out a bit more.
With Toy Story 3 coming next summer, in 3D, and in time for the 15th Anniversary of the first film, Disney is doing a limited 2-week run of Toy Story and Toy Story 2 as a double-feature - in 3D! Pixar has gone back to the original files, and re-rendered out the film in 3D. It didn't look like they changed anything with the lighting or models, but the humans did look a bit better textured - without seeming out of place. Digitally presented, the image is crisp and clean, and like Pixar's Up, the 3D effects are limited to adding depth through the screen (like a window into their world), and very little is "popping out" at you. It's a subtle effect that shows that it's not completely necessary for these films to have been converted into 3D presentations, but it still looked great.
Randy Newman's music sounds clean and impressive, and the songs are just as good as they were back in 1995 (and 1999). If you don't cry during "When She Loved Me" in Toy Story 2, then you have no soul! Watching the two films back-to-back works nicely, although they only give you a 10-minute break to stretch your legs. In all, it's an enjoyable but not completely necessary experience. If you've never seen any of the Toy Story films on the big screen, or are interested in checking it out in 3D, then it's worth making the effort to see it during the limited engagement run.
Missing Information?
If any information appears to be missing from this page, contact us and let us know!