Movie Information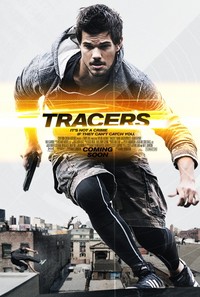 Tracers
Released: March 20, 2015
Movie Purchasing Links
Song Credits
"BACKDRAFT"


Written by Gary James Robinson
Performed by The Death Beats
Courtesy of Crucial Music Corporation

"SHARPSHOOTER"


Written by Misun Wojcik & Andrew WallacePerformed by Misun
Courtesy of Bleed 101

"WHISPERER"


Written by Danny Bobbe, Greg Katz, Jon Perry, & Harlow Rodriguez
Performed by LA Font

"HEY MISTER"


Written by A. Longlands
Performed by AKA
Courtesy of Cutting Edge Music (Holdings) Ltd.

"TRUTH IS"


Written by Scott Reinwald
Performed by Amphibious Zoo
Courtesy of Warner/Chappell Production Music

"APPLE PIE"


Written by Cameron Rafati, Douglas Showalter, Tyler Johnson, David Radcliffe
Performed by Cameron The Public
Courtesy of Gravelpit Music

"HALF OF A CENTURY"


Written by Jamie Eaton & Harrison Colby
Performed by The Delphines
By arrangement with Rollo Grady Productions

"ANGRY ELEPHANTS"


Written and Antonius Holkenborg
Performed by Junkie XL
Courtesy of DMS.FM

"BRINK"


Written by Chris Hall
Performed by Kilon Tek
Courtesy of Ninja Tune
By arrangement with Third Side Music Inc.

"REKOGNIZE REAL"


Written and Performed by T.H. White
Courtesy of Sky Council Recordings
By arrangement with Terrorbird Media

"TIME"


Written by Ian King & Rachel Koeman
Performed by Young Wonder (featuring Sacred Animals)
Courtesy of Feel Good Lost Records
By arrangement with Lip Sync Music, Inc.
Missing Information?
If any information appears to be missing from this page, contact us and let us know!