Movie Information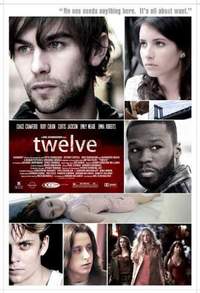 Twelve
Released: August 6, 2010
Credits
Soundrack Albums
There are no soundtrack albums in our database for this title. If this is incorrect, please contact us.
Song Credits
"Flooded Waters"


Writtenby Lamerrill A. Jones and Andrew Costa
Performed by Tone Kapone a/k/a Tony Jones
Produced by Andrew Costa
Mixed by Sean Merkle
Courtesy of New Beat Music and Def Squad

"Black Flag (The Juan Maelean Version)"


Performed by Duchess Says
Written by Annie-Claude Deschenes, Ismael Tremblay Desgagnes, Philippe Clement and Simon Besre
Courtesy of Alien8 Recordings

"Dressed to Digress"


Written by Victor Vazsquez, Lee Pender, Tal Rozen, Alex Kestner and Owen Roberts
Performed by Boy Crisis
Courtesy of B-Unique Records Ltd

"Twins"


Written by Tobias J. Record and AShley Witt
Performed by Toby Record and Ashley Witt
Courtesy of All Ears Music

"Legs, Pt. 1"


Written by William Daren Pullman
Performed by Darande
Courtesy of Ubiquity Records
By arrangement with Sugaroo!

"Easy Street"


Written by Joe Bradley, Christy Karacas and Luke Crotty
Performed by Cheeseburger
Courtesy of Kemade Records

"Hey You"


Lyrics by Gaetan Rechin le Ky-Huong
Music by Gaetan Rechin le Ky Hueng, Amael Rechin le Ky-Huang, Antonin Pierre
Performed by Pony Pony Run Run
Courtesy of Jeme Bureau / Wagram

"Trespasser"


Written by Arthur Lane
Performed by Bad Medicine
Courtesy of New Again Records, LLC
Under License from Arthur Lane

"Tumse Pyaar Heh"


Composed by Ihrahim Ashq and Rajesh Rashan
Courtesy of Extreme Music

"Sneakin"


Music by Nathan Larson
Performed by Nathan Larson and Kevin March

"Bump (Best Fwends Remix)"


Written by Nareem Hanks, Alex Epton, Amanda McGrath and Courtney MEssinger
Performed by Spank Rock
Courtesy of Big Dada Recordings

"Better Things"


Written by Michael Angelakos[?]
Performed by Passion Pit
Courtesy of Frenchkiss Records

"Graivty's Rainbow (Van She Remix)"


Written by Jamie Reynolds, James Righton, Simon Taylor-Davis and Steffan Halperin
Performed by Klaxans[?]
Courtesy fo Polydor Records Ltd. (UK) / Interscope Records
Under license from Universal Music Enterprises

"Knock Out (80[?] kidz Remix)"


Written by Benjamin Lebeau and Guilaume Briere
Performed by The Shoes
Courtesy of All You Need Is Songs

"15 to 20"


Written by Daniel Collas and Sean Marquand
Performed by The Phenomenal Handclap Band
Courtesy of Friendly Fire Recordings
By arrangement with Terrorbird Media

Only If You Run" [sic]


Written by Julian Plenti
Performed by Julian Plenti
Courtesy of Matador Records
Missing Information?
If any information appears to be missing from this page, contact us and let us know!