Movie Information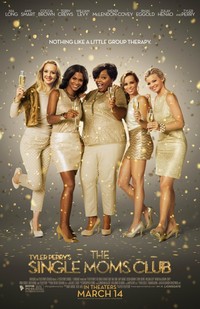 Tyler Perry's Single Moms Club
Released: March 14, 2014
Movie Purchasing Links
Soundrack Albums
There are no soundtrack albums in our database for this title. If this is incorrect, please contact us.
Song Credits
"The Campfire"


Written by C. Fisher, S. Johnson, J. Rabinowitz
Performed by Sixx John
Published by Bridge Compositions Music Publishing, Reformatted One Music
Courtesy of Bridge Compositions

"Cielito Lindo"


Written by Quirino Mendoza y Cortes
Performed by Mariachi Pepe Lopez

"Quiereme Mucho"


Written by Agustin Julio Rodriguez and Gonzalo Roig
Performed by Mariachi Pepe Lopez

"Hip Hop Is Back"


Written by Kevin L. Mitchell and Stephen J. Hansen
Performed by 4x4 Crew
Published by Business 4x4 Publishing and Over BS Music
Courtesy of Kevin L. Mitchell and Stephen J. Hansen

"Wish Upon A Star"


Written by Orin Portwood, Cameron Jo'von Brown, Richardo Thorbourne, Richardo Spicer and Dia Hodari
Performed by SweatBeatz
Published by Affix Music, LLC and Affix Beta Songs
Courtesy of Affix Music, LLC.

"The Freak Is On"


Written by K. Williams & M. Labat
Performed by SKOOTER MAC
Published by Sicmoney Music
Courtesy of ARTISTFINDERS

"Storybook Romance"


Written by Morgan Cameron Ross and Joshua Schroeder
Performed by Morgan Cameron Ross
Published by Casablanca Media Songs obo itself & Songs of Schroedland and Gutenberg Songs
Courtesy of Sparks Music

"Wildflower"


Written and Performed by Abbie Folken
Published by Folken Music
Courtesy of Firefly Music, LLC

"Don't Leave Me This Way"


Written by Kenneth Gamble, Leon Huff, Cary Grant Gilbert
Performed by Wendi McLendon-Covey
Published by Warner-Tamerlane Publishing Corp
Courtesy of Stingray Music c/o INGrooves Fontana

"Revolution"


Written by Saidah Baba Talibah, Marco DiFelice, Benjamin Pinkerton
Performed by Saidah Baba Talibah
Courtesy of CLK Creative Works

"In Between Two"


Written and Performed by Jay Weigel
Published by Music of Melpomene
Courtesy of Carondelet Music Group

"The False Prophet"


Written by Michael Thomas Marlett
Performed by DJ Empty

"Break Me Off"


Written by Richard Harris, Amie Miriello, Dennis White
Performed by KiDD R!CH feat. Amie Miriello
Published by Peer Music III, Ltd., Mr. Man Music, Champagne Socialism Songs, Ddub Inc
Admin by Kobalt Music Publishing America, Inc., Universal Music – Z Songs on behalf of itself and Baby Body Clements Music

"To The Moms"


Written by Jay Weigel
Performed by Carondelet Stompers
Published by My TY PE Music Publishing
Courtesy of Tyler Perry Studios
News &amp Articles
Missing Information?
If any information appears to be missing from this page, contact us and let us know!