Movie Information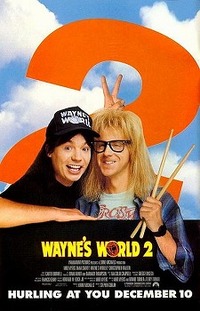 Wayne's World 2
Released: December 10, 1993
Movie Purchasing Links
Review: Wayne\'s World 2 (Blu-ray)
by Dan Goldwasser
May 12, 2009
3.5 / 5 Stars
Schwing!!  It\'s not often that a movie\'s sequel surpasses the predecessor.  The Godfather Part II.  Aliens.  The Empire Strikes Back.  And... Wayne\'s World 2.  Yes, the boys from Aurora return in the 1993 sequel that truly surpassed the original.  One of the rare "Saturday Night Live" skits to make the successful jump to the big screen, Wayne\'s World and its sequel focus on rock fans Wayne (Mike Myers) and Garth (Dana Carvey) and how their lives have changed since the events that transpired in Wayne\'s World.  With Wayne\'s girlfriend Cassandra (Tia Carrere) having much success in her new recording career, Wayne and Garth feel like they need something else to do.  After Jim Morrison visits Wayne in a dream and tells him to put on a concert, Wayne and Garth head to London where they seek out tour promoter Del Preston (Ralph Brown) to put on the most legendary concert ever: Waynestock.  There are some personal challenges along the way, when Wayne believes that Cassandra is cheating on him with her record producer (Christopher Walken).  Wayne\'s World 2 plays fast and fun, and is one of those breezy comedies that doesn\'t take itself too seriously, is packed with rockin\' loud music, and features dozens of impressive cameos - and even a few movie spoofs along the way.
Released on DVD back in 2001, Wayne\'s World 2 makes the leap to high definition with a new Blu-ray release that contains everything that the DVD had.  Which isn\'t much, to say the least.  The film benefits from the new improved transfer, but this is hardly a reference disc.  Instead, this Paramount catalog title gets a decent boost with improved resolution, and adequate colors and contrast, but the print was not pristine.  There are some specks and dirt occasionally, but the grain feels film like and natural.  It\'s a decent transfer, which is complemented with the Dolby TrueHD audio track.  For a movie that has a lot of rock music, the sound mix is surprisingly front-heavy.  This isn\'t an action film, though, and while there are a few instances of rear speaker usage, it\'s a rather acceptable sound presentation - it\'s just not going to \'wow\' you.
For supplements, there are only two things here.  First up is a feature length commentary track by director  Stephen Surjik.  This was the first feature film for director Surjik, and his commentary is a by-the-books discussion of the film, the challenges in securing the various rock bands for the cameos, how to make a comedy, and other things that are interesting on the surface, but it\'s not the most insightful track.   Fans will enjoy the behind-the-scenes featurette, "Wayne\'s World 2 Extreme Close-Up: Exclusive Cast and Crew Interviews" (SD, 15-min), which includes various positive EPK-styled anecdotes by Surjik, Mike Myers, Dana Carvey and Tia Carrere. Weirdly the only thing missing from the Blu-ray that the DVD had is... the theatrical trailer.  Were we not worthy?
Wayne\'s World 2 is a fun comedy that delivers the laughs and still holds up even today.  It\'s not the most amazing film to see on Blu-ray, so if you already own the DVD you might want to weigh your options first, but it certainly benefits from the improved video and audio.
Missing Information?
If any information appears to be missing from this page, contact us and let us know!