Movie Information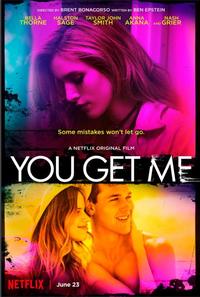 You Get Me
Released: June 23, 2017
Soundrack Albums
There are no soundtrack albums in our database for this title. If this is incorrect, please contact us.
Song Credits
"IVRY"


Written by Vivien Kongolo
Performed by Miles From Kinshasa
Courtesy of Miles From Kinshasa

"COLOURS"


Written by Marius Lauber
Performed by Roosevelt
Courtesy of City Slang
By arrangement with Downtown Records

"MOTH"


Written by Rob Arbelo
Performed by Brian Tan
Courtesy of Bleed 101

"LOOKED UP" FT. NETOUSHA MONROE


Written by Frank Bellino, Jesse Blum, Michael Gugliemino, Nicole Netousha Harris, Sadetin Likovic, Christopher Jonathan Muro
Performed by Electric Bodega
Courtesy of Electric Bodega
By arrangement with Secret Road Music Services

"WINTER LINN"


Written by Chris Clark
Performed by Clark
Courtesy of Warp Records

"COLD SWEATS"


Written by Justin R. Keitt, Saticia Nhem
Performed by BLKNZ
Courtesy of Gravelpit Music OBO Brednbutter

"I WANT U"


Written by Jean Pierre Perez Beauchamp, Walter Emmanuel, Rosado Larregoity, Carlos Adrian Villaverde Martinez
Performed by Loosid
Courtesy of Big Beat Records
By arrangement with Downtown Records

"LETHAL WEAPON"


Written by Bruno Calro Oggioni, Stefano Samin
Performed by Steve Z
Courtesy of Dim Mak Records
By arrangement with Lip Sync Music Inc.

"DREAMS" FT. DANA JEAN PHOENIX


Written by Jordy Leenaerts, Dana Jean Phoenix
Performed by TIMECOP1983
Courtesy of Jordy Leenaerts

"INDIAN SUMMER"


Written by Sabjeeb Saha
Performed by Jai Wolf
Courtesy of Foreign Family Collective LLC
By arrangement with Zync Music Group LLC

"EVER"


Written by Grant Cutler, Claire Taubenhaus
Performed by Tiny Deaths
Courtesy of Songtradr

"TEMPLE"


Written by Preston Hutto, Grayson Michael
Performed by Preston Hutto & Grayson Michael
Courtesy of Blue Buddha Entertainment LLC

"BLOOD LOVE"


Written by Barbara Allen, Jeremy Bose, Trent Dabbs
Performed by Young Summer
Courtesy of Ready Set Records
By arrangement with Secret Road Music Services

"GET BACK"


Written by Alex Frankel, Alex Epton, Morgan Wiley, Edward Kasza
Performed by Alex Frankel
Courtesy of ADF Records

"STRANGER THAN EARTH"


Written by Corin Roddick, Megan James
Performed by Purity Ring
Courtesy of 4AD
By arrangement with Beggars Group Media Limited
Missing Information?
If any information appears to be missing from this page, contact us and let us know!