'Torn Music' - Book on Rejected Film Scores Published
MAY 8, 2012 | Submitted by Sean Saulsbury / Soundtrack.Net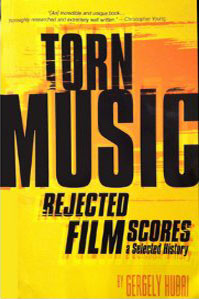 Soundtrack.Net readers have probably come across the 'unused' film score credit. Usually a composer has been hired and, for a variety of reasons, his or her work gets written and recorded but is later tossed out. Another composer is hired, often at the last minute, a new score is composed from scratch.
Many examples are cited in Soundtrack.Net's database, such as A River Runs Through It. (Elmer Bernstein was originally hired and later replaced by Mark Isham. Isham discusses this in the bonus interview track on Silver Screen edition of A River Runs Through It album.)
But full stories of unused scores often go untold, especially the details. Torn Music: Rejected Film Scores, a Selected History by Gergely Hubai is the first book devoted exclusively to this subject. The book details behind-the-scenes score replacement stories of more than 300 movies, from classics, blockbusters, art films and B-movies, gathering information from various sources including CD liner notes, online articles and interviews. Hubai holds degrees in American Studies and American History and teaches courses in film music history.
Among the many titles discussed in Torn Music are Forbidden Planet, 2001: A Space odyssey, Chinatown, Platoon, Interview with the Vampire, The Horse Whisperer, The Bourne Identity.
The book is organized by title, ordered by each title's year of release, starting with The Most Dangerous Game in 1932 and ending with Gears of War 2 (a video game score) in 2002. Each title listed tells us who the original and replacement composers were, along with a one to three page short story describing what happened and why. An alphabetical index by title is listed in the back, as well as an index of sources for the information Hubai has gathered for each title.
The book is published by Silman-James Press (476 pages, MSRP $24.95) and is available in paperback at Amazon.com (unfortunately, it is not available in digital format) and can be bought by clicking here.
Newsletter
Enter your e-mail address to receive weekly soundtrack and film score news: