'Sense8' Soundtrack Released
MAY 6, 2017 | Submitted by WaterTower Music / Soundtrack.Net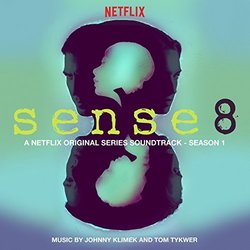 WaterTower Music has announced the release of the soundtrack to the first season of Netflix original series, Sense8, the innovative, dramatic thriller created and written by the brilliant and beloved minds of The Wachowskis and J. Michael Straczynski. Sense8 is a powerful series delving into the exploration of themes of identity, connectivity and humanity. Sense8 - Season 1 soundtrack features the potent score of acclaimed Golden Globe Nominees Johnny Klimek and Tom Tykwer along with songs heard in the first season of the show from 4 Non Blondes, The Antlers, Seven Lions (Feat. Kerli), and Sigur Ros.
"Music touches us deeply," states Sense8 creator Lana Wachowski. "Our composers Johnny Klimek and Tom Tykwer create music fundamental to scenes long before they are shot. The score is it's own unique script and it transports the viewer into the world of Sense8 in ways neither words nor images can."
"Sense8 has been an incredible journey for us," explains director and composer Tom Tykwer. "For a composer, this is as rich a challenge as it gets - intertwining a huge variety of genres, emotions and ideas and setting the atmospheric framing for one of the most ambitious and original TV shows ever. We loved embracing the experiment, and were kept encouraged by the Wachowskis to continue exploring all along the way."
"There are really no shows out there that compare to Sense8. The sheer scope of the show is inspiring, intelligent and bold, and is constantly shifting emotionally," concurs composer Johnny Klimek. "We have a talented team of people working together on the score from inception to airing, and their dedication really shows. The Wachowskis have been incredibly supportive and hands on with the music and always have great suggestions. The score itself is quite a challenge as we're essentially making a 12 hour movie. Its not a simple score, it is quite cinematic and grand, and with a broad spectrum of emotions and situations we have to cover."
On the process of creating the score, the composers explained "The bones of the score are recorded and developed up to a year and half before the release of a season so that the editors have material on the table when they start putting everything together. Before they had even started shooting season 2 we had already provided approximately 10 different 'mother' themes, each being over 5 minutes in length. We split each of these into bits and sent them to editorial where a temporary score was built as part of their process. Once the first cut makes its way to us, we take those ideas and develop them further to picture. We flesh things out; both expand and refine, write new material and even change direction if it is prudent."
Newsletter
Enter your e-mail address to receive weekly soundtrack and film score news: