Lakeshore Records to Release 'Legion' Season 1 Volume 2 Soundtrack
MAY 30, 2017 | Submitted by The Krakower Group / Soundtrack.Net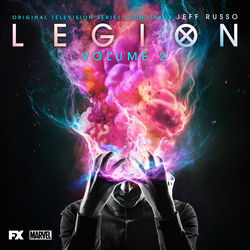 Lakeshore Records will release the Legion Season 1 Volume 2 - Original Television Soundtrack digitally on June 9, 2017. The album contains additional original music by Jeff Russo (Fargo, The Night Of) with two sought after pieces – the special Legion "Fauxlero" version of Maurice Ravel's "Bolero" and Dan Stevens performing The Muppets' classic "The Rainbow Connection" on banjo.
"So glad to be releasing volume 2 of the season one score. There were a number of cues that we just couldn't let out of the bag until after we aired," explained Russo. "'Fauxlero' was so much fun to put together and when was the last time you heard a harpsichord cue?"
"When I first started working on Legion, the showrunner Noah Hawley gave me some great feedback regarding the tonal palate, he suggested I read neurologist Oliver Sacks Hallucinations," said Russo. "It was a fascinating read and it really did help inspire. It is all about the way that our mind can change our perception of reality and what that says about our brains. It was something that directed me right to where this amazing show was going."
Newsletter
Enter your e-mail address to receive weekly soundtrack and film score news: