Lakeshore Records to Release 'Mr. Robot' Volume 3 Soundtrack
JUNE 6, 2017 | Submitted by The Krakower Group / Soundtrack.Net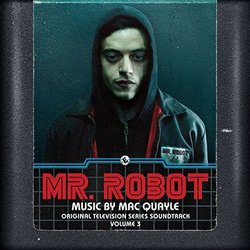 Lakeshore Records will release the first of two volumes of music from the second season of the Emmy, Golden Globe, and Peabody Award-Winning USA Network series Mr. Robot. Mr. Robot V.3 will be digitally released on June 9, while the V.3 CD and the second volume, Mr. Robot V.4, both digital and CD, are set to release later this summer. Volumes 3&4 feature the original score by composer Mac Quayle (Feud, American Horror Story), who won the Emmy for his music in Mr. Robot Season 1. Later this year, Invada Records, in partnership with Lakeshore Records, will release a special LP package.
"If the first season of Mr. Robot took us into Elliot's mind, the second season drew us deeper into his subconscious," said Composer Mac Quayle. "As we learned, it's pretty dark in there and so naturally the music followed suit. Darker, weirder, more dissonant, more paranoid."
"It's quite possibly some of the strangest music I've ever written," said Quayle. "I brought Elliot's theme back from season one but in a much more subtle and obscure form. In addition, I expanded the electronic instrument palette with the use of orchestral style strings to add another layer of emotion to certain scenes."
"To round out the sound I created some beat-driven electro tracks that had me jumping around the studio during the composing process," concluded Quayle. "Once it was all done, it became clear to me that the Mr. Robot rabbit hole goes way deeper than I ever imagined."
Newsletter
Enter your e-mail address to receive weekly soundtrack and film score news: