Varese Sarabande to Release 'House of Cards' Season 5 Soundtrack
JUNE 7, 2017 | Submitted by The Krakower Group / Soundtrack.Net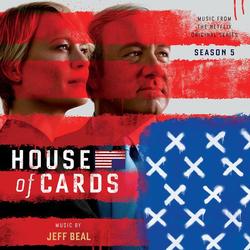 Varèse Sarabande will release the House of Cards Season 5 - Original Netflix Series Soundtrack digitally on June 9 and CD June 30, 2017. The album features the original music composed by Jeff Beal. The House of Cards Seasons 1, 2, 3, and 4 soundtracks are also available on Varèse Sarabande.
"I love secrets in stories, and we have some great ones in season five," said Beal. "Tracks like 'Infamy', 'A Note From Tom', 'Saved My Life, and 'Don't Go Their Way' all explore the territory of secrets in musical terms. These pieces feel a bit like musical riddles or puzzles."
The fifth season of the critically acclaimed Emmy-nominated drama House of Cards premiered Tuesday, May 30, 2017. The series' Golden Globe winning stars Kevin Spacey (as Francis Underwood) and Robin Wright (as Claire Underwood), whose characters have always been each other's strongest allies, show cracks in their relationship. House of Cards also stars Michael Kelly, Jayne Atkinson, Neve Campbell, Derek Cecil, Paul Sparks and Joel Kinnaman.
"I wanted to see what new musical shapes I could play around with this fifth season - turn upside-down the usual compositional structures," Beal explained. "A good example of this is the opening track, 'Nothing To Be Afraid Of'. Here the electric bass, which usually plays two repeated notes, plays an extended melody, while the strings incessantly play the repeated "bass" part. I also experimented with moving the 'low' bass ostinatos into higher registers, such as in tracks such as 'Almost There', 'Simple Truths' and 'No Good Deed.' These shapes created for a sense of upside down gravity, like the power is shifting perhaps?"
Just as Claire Underwood takes her place in the limelight in season 5, Jeff was given the opportunity to showcase a strong female voice, his wife soprano Joan Beal, a bit more this season. "'Dial Up The Terror', 'Implicate Yourself', and 'Nuclear Codes' all explore the arc of Claire Underwood in season five. The operatic soprano is the musical voice of female power and strength."
It's no coincidence that Jeff Beal's film music career began to take off with his work on the acclaimed film Pollock (2000). Beal writes, orchestrates, conducts, mixes and often performs on his own scores – no other artist's brushstrokes touch his canvas. As an accomplished jazz musician, Beal uses his improvisation skills to read the emotional tone of a scene and compose music on the spot. "This process allows me to set up a world where anything can happen, but you don't see it coming."
Newsletter
Enter your e-mail address to receive weekly soundtrack and film score news: