Back Lot Music Announces 'The Mummy' Soundtrack
JUNE 8, 2017 | Submitted by Back Lot Music / Soundtrack.Net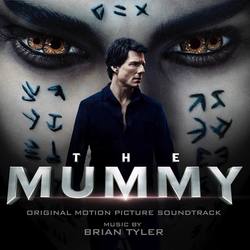 Back Lot Music is set to release the soundtrack album for Universal Pictures' The Mummy, starring Tom Cruise, it was announced today. As there are more than 100 minutes of music featured in the film, there will be two versions of the soundtrack released. A digital deluxe version featuring all of the music will release day and date with the film's domestic release on June 9th. A physical version with score highlights will release on June 16th.
The music of The Mummy is the latest release from Brian Tyler, a prolific composer and conductor of more than 70 films. Of his writing process, Tyler said: "Composing the score for The Mummy was an incredible experience. Alex [Kurtzman] and I started talking about the score very early on during the script phase. I began composing themes in late 2015. I even had the chance to discuss the score with Tom Cruise (a true score aficionado) when he attended my concert in London and when I visited the set watching him at work. Both Alex and Tom are very knowledgeable about scores and were great collaborators. The score needed to hit various aspects of the narrative, as well as creating a mood unto itself."
In regards to Tyler's score for the film and working with the composer, director Kurtzman said: "I've had the pleasure and privilege of working with Brian Tyler for almost ten years and it's gotten to the point that we now seem to share a brain. I found myself using fewer and fewer words to describe what I was looking for because he usually cut me off by finishing my sentences. No matter how many curve balls I threw his way, he rose to the challenge and dug deeper than I've ever seen him do out of a pure love for the process of composing. He's written something classical but contemporary, lyrical and full of romance. He marries adventure, tragedy, yearning, mystery, horror, and humor in a way that echoes all our soundtrack heroes, yet with an ear that's uniquely his. I'm proud to say I think The Mummy is his best score to date, and I truly hope you'll agree."
Tyler conducted the London Philharmonia at Abbey Road with the Pinewood Singers Choir for the bedrock of the score, while playing many Egyptian percussive instruments to supplement the sound. Tyler went on to say: "The movie is almost entirely music and plays an important role in the film - guiding both its emotion and narrative. This was a responsibility not lost on me and I am grateful for Alex, Tom, and all of Universal putting their faith in me to bring the musical voice of The Mummy alive!"
No stranger to scoring films for Universal, Tyler recently scored The Fate of the Furious, which just crossed $1 billion at the worldwide box office. Collectively, the films Tyler has scored have grossed more $12 billion worldwide. Prior, Tyler arranged and conducted the film logo music for Universal Pictures and composed a theme for the centennial anniversary of the studio
Newsletter
Enter your e-mail address to receive weekly soundtrack and film score news: