Milan Records to Release 'Genius' Season 1 Soundtrack
JUNE 15, 2017 | Submitted by Milan Records / Soundtrack.Net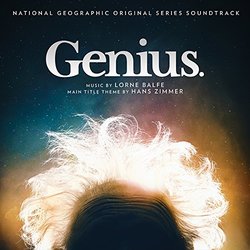 Milan Records will release a full soundtrack for the National Geographic series, Genius, executive produced by Brian Grazer and Ron Howard, with original music by composer Lorne Balfe (The LEGO Batman Movie, Terminator Genisys, Churchill). The soundtrack will be released digitally on June 23 and on CD July 28, 2017. The label previously released an EP of score from the series.
"I'm incredibly honored to be writing music for many geniuses – Geoffrey Rush and Johnny Flynn as Albert Einstein, and for an amazing team led by executive producers Ron Howard and Brian Grazer, and showrunner Ken Biller," said Balfe. "I'm very excited that Milan will be releasing the full score from the first season of this incredible show."
"Music was very important to Einstein," said Balfe. "It was part of his thought process; he used music to distance himself from the problematic equations that he was trying to solve. The distance would then lead to the solutions."
Balfe was influenced by Einstein's own musical talents with his approach to the score. He explained, "Einstein was a fantastic violin player from all accounts, so that was an interesting color to bring into the score."
Newsletter
Enter your e-mail address to receive weekly soundtrack and film score news: