Varese Sarabande to Release 'The Putin Interviews' Soundtrack
JUNE 16, 2017 | Submitted by The Krakower Group / Soundtrack.Net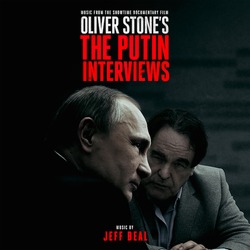 Varèse Sarabande will release The Putin Interviews - Original Soundtrack digitally on June 30, 2017. The album features the original music composed by Jeff Beal (An Inconvenient Sequel: Truth to Power, House of Cards). This mark's Jeff's first collaboration with Academy Award-winning director Oliver Stone.
"There are few filmmakers I admire as much as Oliver Stone," said Beal. "His fearless approach in tackling tough subjects is legendary, artistic and provocative. I am honored to be composing the score for The Putin Interviews for him. In a time of such political noise and anxiety, this series gives us a timely view into a world we've never seen, from the inside-out."
Oscar-winning filmmaker Oliver Stone was granted unprecedented access to Russian president Vladimir Putin during more than a dozen interviews over two years, with no topic off-limits. This remarkable four-part documentary series provides intimate insight into Putin's personal and professional lives, from his childhood under communism, to his rise to power, his relations with four U.S. presidents, and his surprising takes on U.S.-Russian relations today. Witness the most detailed portrait of Putin ever granted to a Western interviewer.
When Beal first watched footage of The Putin Interviews, he found that it was temped with his music from House of Cards. "It worked well in the temp track partially because we didn't want the score to feel like we were telling the audience how to feel or react morally, but rather to invite them to draw their own conclusions. He took this guidance and married it with Russian influences. "The Main Title theme, for example, is this wonderful retro-graphic take of many of the things we associate with Russian style. For this, I used a bit of balalaika, brass, strings, and a large choir to evoke the idea of soviet power and political upheaval."
Beal's score begins very traditionally and expands with more modern sounds. "Because technology and the whole idea of cyber-warfare are an important part of this film, electronic sounds became an important part of the musical palette," he explained. "Oliver addresses the questions of the election hacking in the film and also spends quite a bit of time discussing his views on Edward Snowden, who is currently and somewhat ironically a defector there."
The four-part series also offers an intimate look at President Putin and his motivations. "There is a wonderful scene at the end of episode three where the two men talk about peace and the hope for peace in the world. We see the suffering current conflicts have wrought on so many people, and I used a very simple string quartet for that ('Always Hope') … pure, human, emotional. It was clear part of Oliver's mission in making this film was to foster dialog and understanding between perceived enemies," Beal described. "There is a sense in this film we are confronting the real person, vs. the packaged media version of Putin."
Newsletter
Enter your e-mail address to receive weekly soundtrack and film score news: