Lakeshore Records to Release 'Wish Upon' Soundtrack & Score Albums
JULY 10, 2017 | Submitted by The Krakower Group / Soundtrack.Net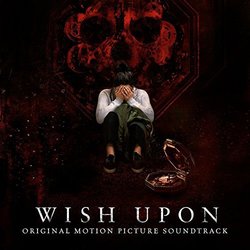 Lakeshore Records will release both the original soundtrack and an original score album for the film Wish Upon digitally on July 14, 2017. The Wish Upon – Original Motion Picture Soundtrack, with music supervision by three-time Grammy nominee Alexandra Patsavas, features the original song "Be Careful What You Wished For" by Wayfarers, along with tracks by Hey Violet, Grace Mitchell, Kil The Giant, Lili Ray, and Leo Soul (feat. Lili Ray). It will be released on CD later this summer. The Wish Upon – Original Score album features music by tomandandy (The Monster, The Rules of Attraction, Killing Zoe).
"John [Leonetti, director] and I worked closely together to come up with songs that embody the Wish Upon sonic universe - catchy, modern, classic and sometimes a little tense and off-kilter." Said Music Supervisor/Producer Alexandra Patsavas. He has been responsible for identifying and exposing a remarkable string of original music to mainstream audiences.
A champion of independent artists, music supervisor Alexandra Patsavas turned to the band Wayfarers who contributed the original song "Be Careful What You Wish For". "It is rare to come across a song that feels as right for a film as 'Be Careful What You Wish For'. Wayfarers captured the spirit of Wish Upon in one finely crafted track. John knew as soon as he heard an early demo that this was to be the signature song for the film."
An integral part of the "spell" of the box lies in the tune it plays as the wish is granted. Filmmakers were keen to have its musical aspect be as special as the box itself, and so they turned to the film's composers, tomandandy (the duo of Thomas Hadju and Andy Milburn), to create the haunting sound.
When composing for the film Andy Milburn of tomandandy found it, "Helpful that the melody has a least a couple of tiny 'mini- melodies' within it that can be broken out and used separately. In Wish Upon, this took the form of a counter melody that's really just a little accompanying figure, able to stand on its own and evoke the box—without requiring a complete re-statement of the theme."
Newsletter
Enter your e-mail address to receive weekly soundtrack and film score news: