Varese Sarabande to Release 'Gypsy' Soundtrack
JULY 25, 2017 | Submitted by The Krakower Group / Soundtrack.Net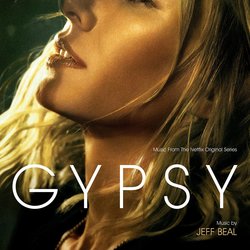 Varèse Sarabande will release the Gypsy - Original Netflix Series Soundtrack digitally on July 28, 2017. The double album features the original music composed by Jeff Beal (An Inconvenient Sequel: Truth to Power, The Putin Interviews) for the Netflix series, which premiered globally on June 30th.
"The very first scene of the pilot is a bit of a microcosm of some of the themes of the show," said Beal. "We meet Jean walking through Grand Central station and out into the sunlight. There is a surreal quality to the light and slow motion, and a key line in the opening narration 'There's a force more powerful than free will—our unconscious.' This felt like the way in - music should express the inner monologue of Jean's hidden, secret identity, which we would discover over the course of these 10 episodes."
Gypsy is a ten-part psychological thriller that follows Jean Holloway (Naomi Watts), a Manhattan therapist with a seemingly picturesque life who begins to develop intimate and illicit relationships with the people in her patients' lives. As the borders of Jean's professional life and personal fantasies become blurred, she descends into a world where the forces of desire and reality are disastrously at odds.
"Lisa Rubin [series creator] encouraged me not to play too dark early in the season, but rather play the sense of mystery and discovery," Beal explained. "Lisa really responded positively to my first idea for the opening, which was a mixture of some dreamy electronics, melodic gestures, pulsing synths, and an important musical 'Easter egg'. It feels a bit unsettling and strange, a good musical metaphor for Jean's character."
Newsletter
Enter your e-mail address to receive weekly soundtrack and film score news: