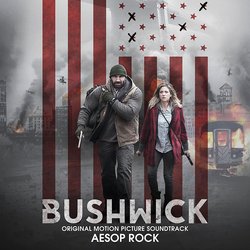 Lakeshore Records will release underground hip hop pioneer Aesop Rock's original score to the forthcoming film Bushwick. His first ever film score, Bushwick - Original Motion Picture Soundtrack is a mind-bending collection of instrumental tracks providing an exhilarating beat-heavy backdrop to the Cary Murnion and Jonathan Milott directed thriller. Produced by Aesop Rock, the tracks also feature contributions on synth and guitar by Grimace Foundation. Lakeshore Records will release Bushwick—Original Motion Picture Soundtrack digitally on August 11th, on CD August 25th and on vinyl at a later date. RLJ Entertainment will release Bushwick in theaters and on VOD August 25th. ญญญญ
Says Aesop: "This entire project maintained a pretty smooth momentum from start to finish. This was my first foray into working on a feature film, and this team was helpful the entire way—even in my moments of self-doubt. I'm extremely excited to have been a part of Bushwick.'"
Say Murnion and Milott: "We were beyond excited and amazed to have a chance to work with Aesop Rock on the score for Bushwick! We've been fans of his since Music for Earthworms. Labor Days is one of our all time favorite records. Bazooka Tooth, None Shall Pass and Skelethon are each so special. And we loved the Hail Mary Mallon project he worked on with Rob Sonic and Big Wiz - (we listened to the instrumentals of Bestiary on repeat while we've been prepping to shoot Bushwick). Aesop keeps blowing us away with his dense, next level lyrics but we were equally impressed by the beats and sounds he creates for each new record. Which is why when we were thinking of someone to score Bushwick we immediately thought of asking him if he'd want to work with us on our passion project. Aesop grew up in Long Island and had lived in Bushwick, so he immediately connected to the concept and the characters. He has created a score that sets the tone for the whole film as 'Corner Store' kicks in as we fly up over Coney Island in the opening credits. The score is gritty, emotional, unnerving and triumphant, taking us on a journey as we weave through the streets of Brooklyn."