Varese Sarabande to Release 'What Happened to Monday' Soundtrack
AUGUST 9, 2017 | Submitted by The Krakower Group / Soundtrack.Net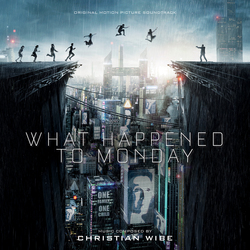 Varèse Sarabande will release the What Happened to Monday – Original Motion Picture Soundtrack digitally on August 18, 2017. The album features original music composed by Christian Wibe (Dead Snow).
"What Happened to Monday is the story about seven siblings struggling to stay alive in an overpopulated world with little resources. At its core it´s a film about family, desperation, survival and betrayal," described Wibe.
"While the story screamed for broad stroke emotions and the big classical orchestra, it´s also a story set in the future, and electronics was used to bring in the more futuristic colors," Wibe explained. "The score features a big 85-piece orchestra, 3 percussionists, prepared piano, guitars and a good load of classic synths."
Wibe´s use of electronics makes for an interesting listen. The score is filled with ear candy and details, serving to enhance the story on screen. "I wanted a big lush futuristic sound, while at the same time have it feel close, honest and intimate," he said. "The hybrid really opens up for a lot of possibilities in shaping the feel of the orchestra. It´s a nice blend. Careful use of electronics subtly shifts the sounds towards a more futuristic vibe. Shaping my palette of electronics to blend with the big strings was particularly enjoyable."
Newsletter
Enter your e-mail address to receive weekly soundtrack and film score news: