Universal Music Enterprises Announces 'This Is Us' Soundtrack
AUGUST 15, 2017 | Submitted by Universal Music Enterprises / Soundtrack.Net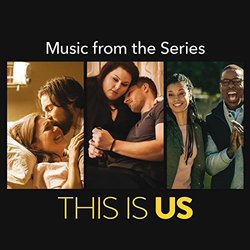 This Is Us (Music from the Series), a companion to the show America loves, is available September 15 via UMe. With instantly recognizable hits and classics, an original song and a compelling score, the soundtrack features 20 songs curated by This Is Us Creator/Executive Producer Dan Fogelman and his team, music supervisor Jennifer Pyken and composer/musician Siddhartha Khosla. Each musical element is carefully woven throughout the series, with the songs clearly defining a moment or serving as a gentle guide through the complex emotional journey.
The soundtrack opens with "Death With Dignity" by Sufjan Stevens, instantly recognizable as a tone-setting music cue from the series' debut episode, and concludes with "This Is Us Score Suite" by Khosla. Also featured is a rare cover version of Peter Gabriel's "Come Talk To Me" by Khosla's critically acclaimed band Goldspot, which has been praised by Gabriel himself, and "We Can Always Come Back To This," the original song composed by Khosla and Chris Pierce, performed by Brian Tyree Henry in Season 1's pivotal "Memphis" episode. The soulful, Stax-inspired song connected with the show's audience, topping Billboard's Blues Singles chart at No. 1 for four consecutive weeks and reaching No. 12 on iTunes' Top 100 Songs chart.
In continuing with the personal theme of familial relationships of the show, Goldspot's "Evergreen Cassette (Tape Mix)" draws on Khosla's early childhood experience of living in India with his grandparents while his parents were in the U.S., working and attending graduate school. His only form of communication with his parents was being sent an evergreen-colored cassette tape by his mother, who would speak to him, sing songs and tell him stories. This Is Us creator Dan Fogelman was an early fan and supporter of Goldspot.
Newsletter
Enter your e-mail address to receive weekly soundtrack and film score news: