Varese Sarabande Announces 'American Assassin' Soundtrack
AUGUST 31, 2017 | Submitted by The Krakower Group / Soundtrack.Net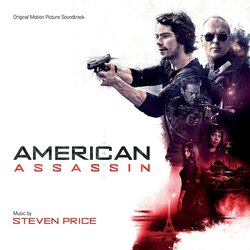 Varèse Sarabande will release the American Assassin – Original Motion Picture Soundtrack digitally and on CD on September 15, 2017. The album features the original music composed by Steven Price (Gravity, Suicide Squad).
"Everything about [director] Michael Cuesta's approach to the movie focused on character… the motivations and complex interrelationships between the story's principle players" said Price. "We talked a lot about how the music could support Michael's psychological approach to the storytelling."
American Assassin follows the rise of Mitch Rapp (Dylan O'Brien), a CIA black ops recruit under the instruction of Cold War veteran Stan Hurley (Michael Keaton). The pair is then enlisted by CIA Deputy Director Irene Kennedy (Sanaa Lathan) to investigate a wave of apparently random attacks on both military and civilian targets. Together the three discover a pattern in the violence leading them to a joint mission with a lethal Turkish agent (Shiva Negar) to stop a mysterious operative (Taylor Kitsch) intent on starting a world war.
"The very first scene in the film portrays a moment in our lead character's life that changes everything, and gives him the motivation that drives his life beyond that point," Price explained. "Within the cue that plays there I needed to capture the intensity and emotion of the events themselves, whilst also introducing themes and devices that would then reveal their importance as the film progresses."
Price continued, "There are themes of loss, anger and revenge, and a lot of my job was giving the characters clear musical identities that we could develop and combine in various ways as the character's journeys emerge and as the film builds to it's climax. Michael was always looking for characters to have recognizable themes and sounds within a score that allowed the tension and mystery of the movie to develop in a very intense way."
Newsletter
Enter your e-mail address to receive weekly soundtrack and film score news: