'Tooth and Tail' Game Soundtrack Announced
SEPTEMBER 7, 2017 | Submitted by White Bear PR / Soundtrack.Net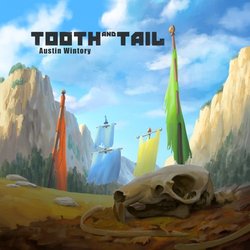 T-65b Records and Varese Sarabande Records will jointly release the Tooth and Tale original video game soundtrack through all major digital music outlets worldwide on CD and vinyl on September 12th. The album features the game's original score by celebrated composer Austin Wintory (Journey, Abzu, Assassin's Creed Syndicate). This 23-track album features the original score which is an eclectic blend of regionally-inspired dance styles with sarcastic tinges of Russian folk music.
Wintory described the score: "Normally I'm not interested in writing music that has a sort of deliberate eclecticism, because I tend to heavily favor cohesion and economy. But it was genuinely called for here, due to structure of the game; there are four factions, with really only color palette differentiating them, and therefore music became one of the main ways we deepened player agency in their faction choices. It actually needed to feel like four scores in one, so each faction became this sort of quasi-nationalistic sound; a brassy quasi-Bavarian waltz for the militaristic character, an orchestral Italian wedding tarantella for the aristocrats, a strange "liturgical tango" for the Longcoats, and a semi-Bulgarian folk dance for the Commonfolk. I can honestly say I've never attempted a score quite like this as a result, and given that its DNA runs counter to my normal approach, I just really hope it works and people like it!"
Tooth and Tale is a real-time strategy game where you command animals such as boars, owls, skunks, or mice. There are four different factions within the game and it features its own unique lore – and even its own language (created by Sound Designer Kevin Regamey, and subsequently sung in-game by the legendary Australian comedians Tripod).
Austin Wintoryt was brought onto the Tooth and Tale team from the beginning and crafted nuanced music that helps to shape this complex world. The music is deeply interactive to the player experience, following the ups and downs of its very fast-paced strategic gameplay. To flesh out the musical ideas even further, Austin commissioned half a dozen musical artists to make "covers" of the scores central themes (which he co-produced) and are interspersed on the soundtrack album amidst the original score.
Newsletter
Enter your e-mail address to receive weekly soundtrack and film score news: