Sumthing Else Music Works to Release 'ARK: Survival Evolved' Game Soundtrack
AUGUST 24, 2017 | Submitted by Top Dollar PR / Soundtrack.Net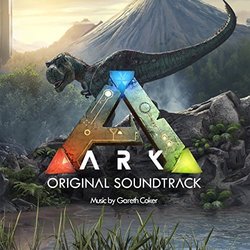 Sumthing Else Music Works, the premier record label dedicated to releasing video game soundtracks, and independent game developer, Studio Wildcard, are proud to present the epic orchestral soundtrack to the definitive open-world dinosaur survival-adventure game, ARK: Survival Evolved. Composed by Gareth Coker (Minecraft, Ori and the Blind Forest), the official soundtrack album will be released August 29 via digital and streaming outlets worldwide through Sumthing Else Music Works.
"Gareth's mind-blowing sense of melody and uncanny expertise at reinforcing specific themes and emotions through his music helped shape the identity of ARK: Survival Evolved from the very beginning," said Jesse Rapczak, Co-Founder and Co-Creative Director of Studio Wildcard. "Starting with that iconic main theme written for our first announcement trailer, Gareth continued to deliver a huge and varied score that brought to life every part of the game, be it the beach, the mountains, the jungles, the desert, the caves, the EPIC boss battles and even the out-of-this-world science-fiction climax of ARK's End Game. The score was so good, that we had no choice but to send Gareth to Abbey Road to record the entire thing with the 93-piece Philharmonia Orchestra!"
For his latest musical journey and collaboration with Studio Wildcard on ARK: Survival Evolved, Gareth Coker explains, "The scope and size of the score of ARK: Survival Evolved, whilst intimidating, has pushed me to write in ways I didn't know I was capable of. And to cap it all off, with a gargantuan 3-day recording session in London with the amazing Philharmonia Orchestra really helped glue the entire score together. For the two years I've been working on the game, I've been able to see the lightning in a bottle that Studio Wildcard captured, and watch it blossom and grow on Twitch and YouTube throughout the early access program, into the monster it has become today. I can't wait to revisit the Island and beyond with more music for the upcoming expansions to the game!"
Newsletter
Enter your e-mail address to receive weekly soundtrack and film score news: