Lakeshore Records to Release 'Stronger' Soundtrack
SEPTEMBER 15, 2017 | Submitted by The Krakower Group / Soundtrack.Net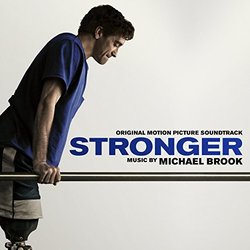 Lakeshore Records will release the Stronger - Original Motion Picture Soundtrack digitally on September 22, 2017. The album features original music by Michael Brook (Brooklyn, Undefeated).
In Stronger, inspired by a true story and based on the New York Times bestseller, Jake Gyllenhaal stars as the working-class Boston man [Jeff Bauman] whose iconic photo from the 2013 Boston Marathon bombing captured the hearts of the world. Stronger is the deeply personal account of the heroic journey that came after that photo – defining a man's inner courage, a community's pride, a family's bond and an unexpectedly tenacious love to overcome devastating adversity.
"The film covers a sort of everyman, Jeff Bauman, who goes through this terrible tragedy experiencing anguish, loss and despair, but ultimately discovers his inner strength on the road to recovery," Brook described. It became a bit more important than usual for the opening cue to introduce them to Jeff. "David Gordon Green [director] and Jake Gyllenhaal, [actor/producer] wanted the opening cue to strongly and instantly establish the emotional perspective that Jeff was a sweet, thoughtful kind of guy who has a fantastic sense of humor. They felt, and I agreed, that a sweet, almost playful cue could initiate a sort of emotional resonance that would bring a kind of balance to the rest of the film."
Newsletter
Enter your e-mail address to receive weekly soundtrack and film score news: