Sony Music to Release 'The Foreigner' Soundtrack
SEPTEMBER 28, 2017 | Submitted by The Krakower Group / Soundtrack.Net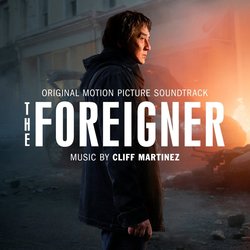 Sony Music proudly announces the release of The Foreigner (Original Motion Picture Soundtrack) with the music by Grammy nominated composer Cliff Martinez (Drive, TV's The Knick). The soundtrack will be released digitally and on CD on October 13th, 2017. The Foreigner from STXfilms opens in U.S. theaters the same day.
"This is a unique score for me - my first time doing a score for a nonstop action film," said Martinez. "Director Martin Campbell trusted me and left me alone to do what I do best. The music is all electronics with a couple of hardware synthesizers - it's really dark and tense."
Martinez added, "There's a recurring theme in the film where Jackie [Chan] keeps wiping the floor with these young bodyguards and keeps saying, in essence, 'I can't believe you guys can't handle an old man'. I found out that Jackie and I are only a few months apart in age. I hope you young guys can handle us old men!"
Newsletter
Enter your e-mail address to receive weekly soundtrack and film score news: