Varese Sarabande Announces 'Loveless' Soundtrack
OCTOBER 31, 2017 | Submitted by The Krakower Group / Soundtrack.Net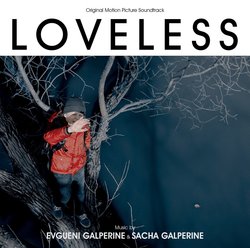 Varèse Sarabande will release the Loveless – Original Motion Picture Soundtrack on November 10, 2017. The album features the original score composed by Evgueni Galperine and Sacha Galperine (The Wizard of Lies, The Past). Loveless is directed by Andrey Zvyagintsev and won the award for Best Film at the BFI London Film Festival and the Jury Prize at the Cannes Film Festival.
Evgueni and Sacha began to write the score for Loveless without seeing a frame of film or a word on paper. "Andrey wanted us to give an absolutely free interpretation of the story based solely on his description, hoping that the music would become a missing piece of the psychological and emotional puzzle," said Evgueini.
In Loveless, Zhenya and Boris are going through a vicious divorce marked by resentment, frustration and recriminations. Already embarking on new lives, each with a new partner, they are impatient to start again, to turn the page – even if it means threatening to abandon their 12-year-old son Alyosha. Until, after witnessing one of their fights, Alyosha disappears…
How to process this event would be a central focus of the score. "We had to go deep into our imaginations and emotions," explained Evgueni, "trying to connect with what is happening in the heads of the parents when their child disappears and their world is reduced to only one thought: find him."
"In the language of music," Evgueni continued, " it would be one note, one chord, one rhythm – it's how the idea of '11 Cycles of E' was born." That piece both opens and closes the film.
"Director Andrey Zvyagintsev's cinema always shows the invisible link between the intimate stories of human beings and the universe. And often the music personifies this link," said Evgueni. "Finding the way to express this connection was the most incredible and gratifying challenge."
Newsletter
Enter your e-mail address to receive weekly soundtrack and film score news: