Lakeshore Records to Release 'Alias Grace' Soundtrack
NOVEMBER 2, 2017 | Submitted by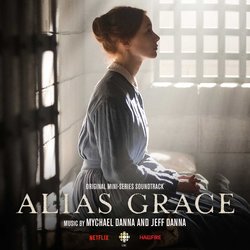 Lakeshore Records will release the Alias Grace - Original Mini-Series Soundtrack digitally on November 3, 2017. The album features original music by Mychael Danna and Jeff Danna created for the acclaimed CBC/Netflix mini-series produced by Halfire Entertainment.
"Alias Grace is based on a novel of the same name written by celebrated author Margaret Atwood (The Handmaid's Tale) of a true story that took place in Canada in 1843," said Mychael Danna. "We wanted the score to mirror the formal rigidity of British Colonial 19th Century society."
"We chose a chamber group of virtuosic musicians to lay out the complicated fabric of the musical world of Alias Grace," Jeff Danna explained. "There was interwoven string parts, often with one player per part in the traditional way, colored by fleeting woodwinds, piano and even the occasional church organ - all of it underlined with a dark thread of mystery and growing doom as we slowly move towards the inevitable violence of the crime."
Newsletter
Enter your e-mail address to receive weekly soundtrack and film score news: