'The Invisible Hours' Soundtrack Released
NOVEMBER 14, 2017 | Submitted by Top Dollar PR / Soundtrack.Net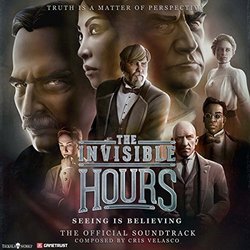 Sumthing Else Music Works, the premier record label dedicated to releasing video game soundtracks, Tequila Works, and GameTrust, are proud to present the original soundtrack to The Invisible Hours, an immersive and new murder mystery experience in the world of Virtual Reality. Composed by Cris Velasco, the soundtrack will be released today via digital and streaming outlets worldwide through Sumthing Else Music Works.
The Invisible Hours experience plays like an elaborate immersive theater production, which can only be realized through a virtual reality game. Players freely explore an intricate web of interwoven stories within a sprawling mansion in order to untangle a dark truth. A group of strangers receive a curious invitation from enigmatic inventor Nikola Tesla, offering each of them the chance to make amends for their darkest wrongdoings. When the last guest arrives at Tesla's isolated mansion laboratory, they find Tesla dead - murdered - and a mystery begins to unfold. It is one of the deepest narrative experiences in virtual reality to date.
"We took our inspiration from stage theater and played with atmosphere and ambient sound," explains Raśl Rubio, CEO and Creative Director of Tequila Works. "Like the original silent movies of early 20th Century, we added a soundtrack matching the action only in very specific moments for dramatic purpose. The result is an intimate, atmospheric symphony that talks directly to your soul. And composer Cris Velasco is the invisible hand behind the chill you feel when wandering Tesla's domains spying the secret lives of all these strangers."
Newsletter
Enter your e-mail address to receive weekly soundtrack and film score news: