'Saw Anthology' Soundtrack Announced
NOVEMBER 17, 2017 | Submitted by The Krakower Group / Soundtrack.Net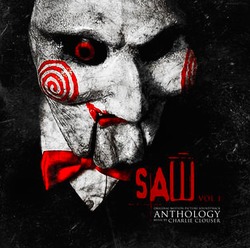 Lakeshore Records will release the Saw Anthology V.1 and V.2 digitally on November 24th and on CD/LP later this year. This collection features the beloved original score from all 8 films in the Saw anthology. Volume 1 contains music from Saw 1 through 4 while volume 2 features music from Saw 5 through 7 and Jigsaw, which will be released in theaters the same day. All of the original music and arrangements are from composer Charlie Clouser.
"It was quite a task to reduce more than twelve hours of score down into about two hours for the Saw Anthology release, and in the end it took me nearly a month!" said Clouser. "I wound up listening to and evaluating every single molecule of music from the whole franchise, which was a task in itself, and in many cases creating montages of three or four cues merged into a single, seamless piece."
"When I began work on the first Saw film I knew it was really something special, but I'll admit that at the time I didn't realize how it could be turned into such a long-running franchise with an ongoing series of installment," Clouser explained. "I feel pretty lucky to have been a part of a franchise has struck a chord with a lot of people for a bunch of different reasons."
Newsletter
Enter your e-mail address to receive weekly soundtrack and film score news: