'Star Wars: The Last Jedi' Soundtrack Released
DECEMBER 15, 2017 | Submitted by Walt Disney Records / Soundtrack.Net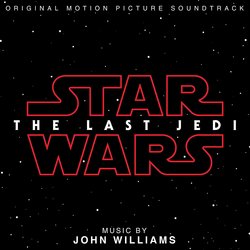 Today, Walt Disney Records releases the original motion picture soundtrack for Star Wars: The Last Jedi. The album features a new score conducted and composed by five-time Academy Award-winning composer John Williams.
Oscar-winning composer John Williams' ubiquitous Star Wars "Main Title" theme has become part of popular culture since it was first heard accompanying Star Wars: A New Hope in 1977. It is no surprise that Williams' orchestral compositions for Star Wars are among the most beloved and recognizable themes in cinematic history, from the classic "Main Title" theme introduced in Star Wars: A New Hope to the ominous "Imperial March" from Star Wars: The Empire Strikes Back to the stirring "Duel of the Fates" from the prequel trilogy.
After creating the scores for the seven previous Star Wars films, Williams returns to compose and conduct his signature sweeping music for The Last Jedi.
The Last Jedi score was recorded in Los Angeles. Williams worked with members of the highly regarded freelance orchestra with which he's recorded numerous film scores over the years. The music for The Last Jedi was recorded over several months while working in tandem with the film's editorial and special effects teams on the West Coast.
As with Star Wars: The Force Awakens, audiences can expect to hear quotations from earlier Star Wars themes. For Williams, incorporating the previous themes is part of the fun of scoring the Star Wars movies and helps create what he calls "the fabric of the films."
As with previous Star Wars films, many of the characters have their own musical themes. Williams explains, "Rey has a theme, Kylo Ren has a theme, Finn has one, Rose has one… These thematic elements infuse the whole score and are part of what moves the film along, giving its sonic outline. In the Star Wars films, the orchestra can be as extrovert as it wants to be at given times, so it really becomes a big part of the fun and imagination of it all."
Newsletter
Enter your e-mail address to receive weekly soundtrack and film score news: