Varese Sarabande Announces '24 Hours to Live' Soundtrack
DECEMBER 20, 2017 | Submitted by The Krakower Group / Soundtrack.Net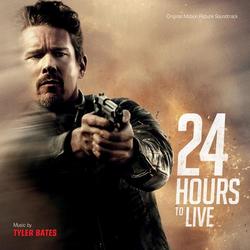 Varèse Sarabande will release the 24 Hours to Live – Original Motion Picture Soundtrack digitally on December 29, 2017 and on CD January 19, 2018. The album features original music composed by Tyler Bates (Guardians of the Galaxy, John Wick). Marilyn Manson's "God's Going to Cut You Down," is a traditional hymn previously popularized by Johnny Cash and Odetta, is a special album-only bonus track.
Bates is currently a member of Marilyn Manson's touring band and produced Manson's last two albums. "Manson and I were putting the finishing touches to his album 'Heaven Upside Down', when the director Brian Smrz asked me if we would possibly cover the song ["God's Going to Cut You Down"] for the end credits," said Bates. "Manson & I were already very familiar with the song, and there was a version placed temporarily in the end credits that we didn't like, so we just did our own thing. We found a tempo that felt good, threw up a 'four on the floor' 808 kick drum, and worked out an arrangement with acoustic guitar and his vocal. I added talk box, melodica, bass, electric guitar, and ambient noise over the course of one late-night session!"
24 Hours to Live is a fast-paced action-packed movie about a career assassin (Ethan Hawke) who is given a chance at redemption after his employer brings him back to life temporarily after being killed on the job.
Bringing focus to the core precepts of the film, composer Bates explained, "Loss, love, and retribution, are strong emotional motives that drive our main character to take extraordinary measures to carry out his mission in the most extreme capacity, so it was important that the score to be imbued with those emotions."
Bates also brought in some ethnic musical elements to the score. "We subtly alluded to South Africa, (where the film primarily takes place), with some ethnic instrumentation in the percussion, and a couple prominent solo vocal moments." To achieve these effects, "Rafe Pearlman sang solo vocals. I played acoustic and electric guitars and Guitar Viol. And there was plenty of interesting percussion instruments used throughout, including Kalimba, Hammered Dulcimer, Udu, singing bowls, and many clay pots for tonal centering of the percussion."
Newsletter
Enter your e-mail address to receive weekly soundtrack and film score news: